Introduction
This guide will show you how to use SheerSEO free software to rank higher in Google. It is written for people who are starting with SEO or at intermediate level in the subject.
Step One – Setting Up Localization & Keywords
So you signed up for SheerSEO, Great! Now what?!
The first step is to setup your keywords and localization.
Default Localization
When we collect rankings (more on that in a moment), we need to know the country to collect that from. This is because the rankings and other data we collect will be very different depending on where we collect the data from.
This is why one of the first steps in the signup process is to setup the default localization, as you can see in our signup form.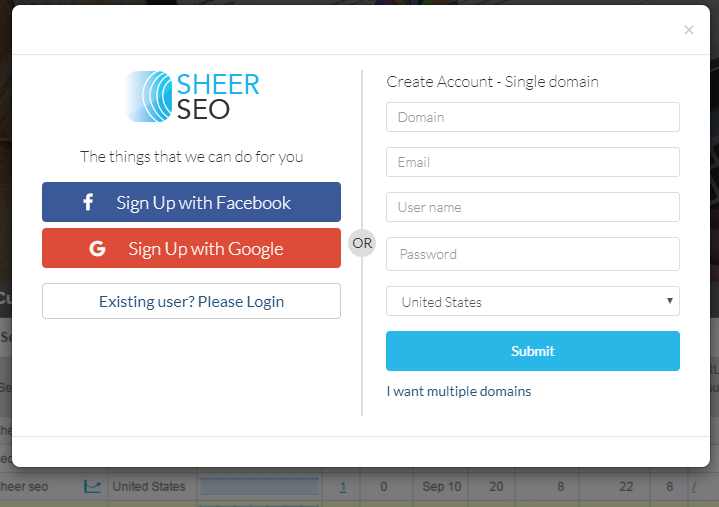 If you missed it in the signup, you can change that in settings>domain settings>account details screen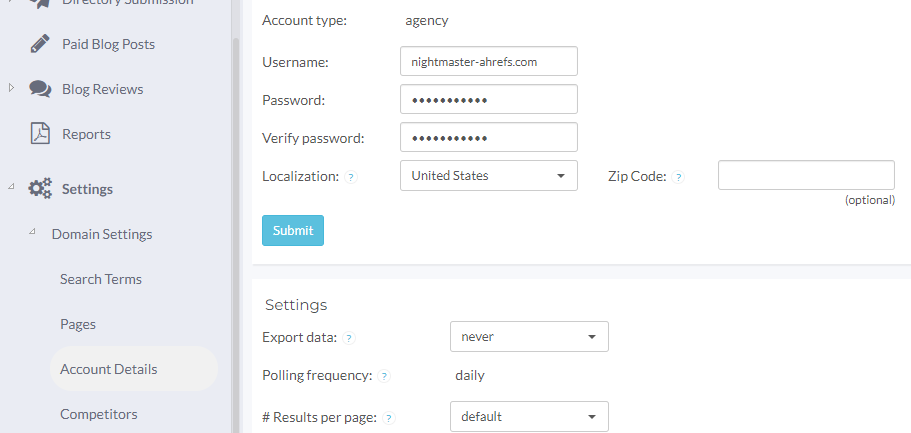 Notice that you can also setup the default zip code here. This is useful if your website is not national but a local business.
When adding new keywords, the default localization will be used unless specified differently per that keyword.
Adding Keywords
Keyword rankings are main target in SEO.
Better rankings = more visitors to your website.
That is why it is crucial to track keyword rankings. Let's see how we do that in SheerSEO.
First, we need to define the keywords we want to track. We can do that in several ways.
The easiest way to add keywords is to add them from current rankings screen (rankings>current screen in the left menu).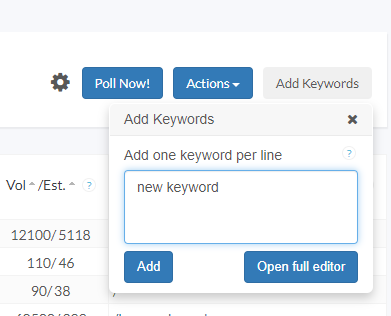 Just press the "add keywords" button on the right menu, and add them from there. It is a line delimited list of keywords you know you want to add.
If you need some help with choosing the right keywords, you can use the "open full editor" button on that menu.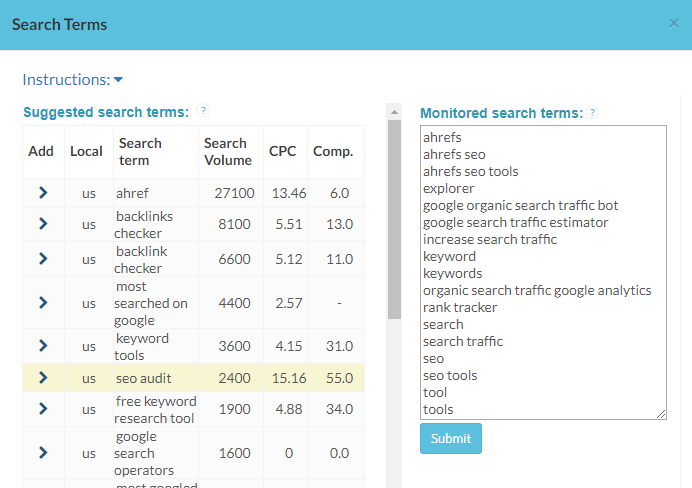 This will show you some suggestions and some valuable data regarding their potential (search volume) and how hard they are to rank (Competition). All you need to do is to click the add button next to each keywords you see fit. You can also directly add your own keywords from using the line delimited list on the right side. When you're done – just press the submit button.
Rankings
The result of the setup of keywords and localization is the rankings.
There are several screens for rankings, but the most used one is the current rankings.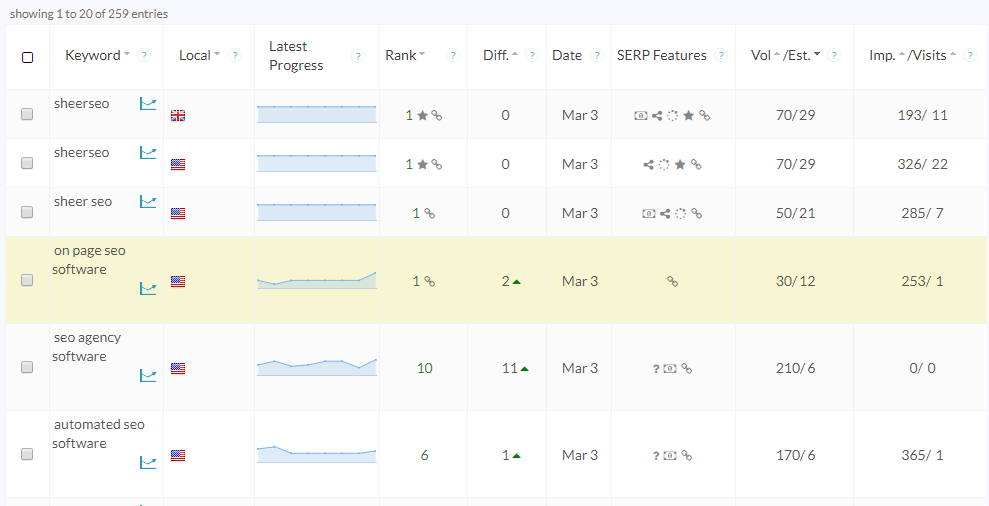 You can find in the current rankings screen a lot of valuable data, but for the sake of this short guide, the most important data is:
The rank – position in Google results for this keyword
Search volume – average number of searches on Google for this keyowrd
Latest progress – short historical rankings graph
Real Visits
Rankings screen shows you an estimation of your visitors per each keyword based on your rank and search volume, but this is only an estimation.
If you want to see the actual amount of visits you get from each keyword, the only way to do that will be to allow sheerseo to take this information from Google Search Console. That can also be set from the rankings screen settings mentioned above.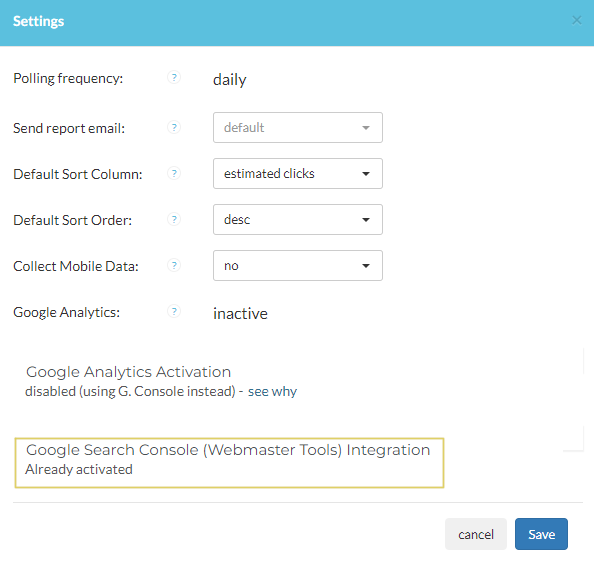 Tracking Mobile
Mobile rankings might be different than desktop rankings. If you would like to track also for mobile you can set that from the rankings settings. You can find the cog icon on the right upper menu of the current rankings screen.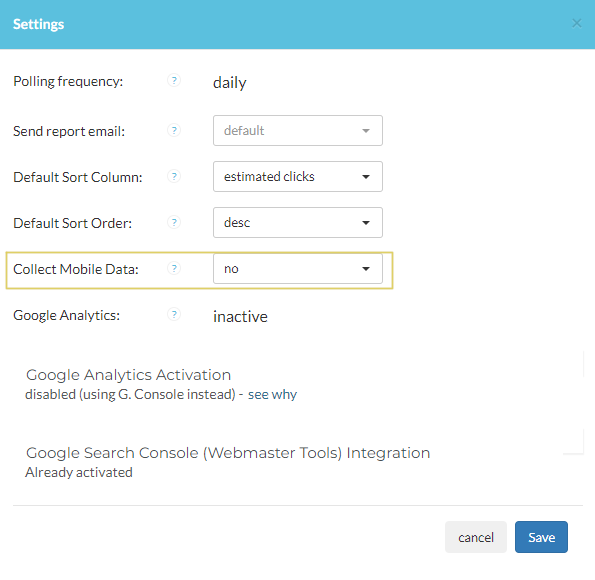 Step 2 – Selecting Keywords to Target
Ok, after the previous step we got ourselves some keywords to track. That might be a long list of keywords, but we need to make sure we grow that list or improve the keywords already on that list.
Since SEO requires some work, including build of content and backlinks, we can't work on all keywords at the same time. At any given time we need to focus on a small set of keywords. Once we finish that, we could move on to the next set of keywords.
The key here is to select the right set of keywords. Some keywords may not yield enough traffic and some are too difficult to rank.
The main feature SheerSEO offers for selecting the right keywords is the Keywords Explorer.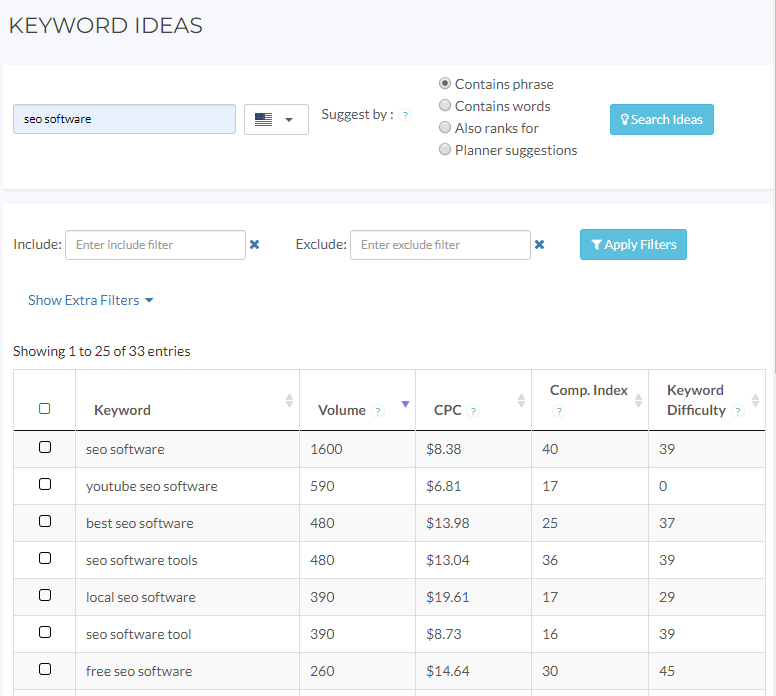 As you can see above it shows keyword suggestions.
The suggestions come from either keywords you give or a competitor website.
The suggested keywords come with a lot of useful information like search volume, CPC and keyword difficulty.
When the suggestions are created based on given keywords they can be suggested by:
Contains words/phrase – all keywords that contain the initial phrase/words
Also ranks for – we find the sites that rank in the first page of results for the given keyword, and see what other keywords they also rank for. This is probably the most useful way to find new keywords.
Planner suggestions – suggestions taken from Google Keyword Planner.
Building the List
There might be thousands of suggestions, so you need to filter them and finalize your list. For that sake, we have a lot of useful filters you can use.

Optimization Targets
One last cool feature is to take that list you created and build optimization targets out of it. There is a button at the bottom of the Keyword Explorer that does that.
Now with the optimization targets, you can see a dashboard that summarizes your efforts for your focused keywords.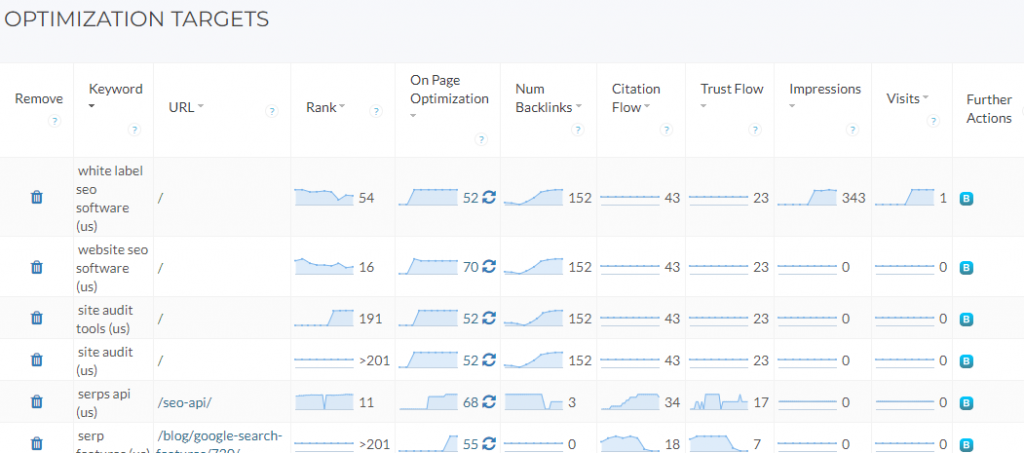 It shows tons of valuable data and tools to focus your efforts on those keywords. Including rank progress, on page optimization score and the page rank score.
Step 3 – Working on Backlinks
Backlinks are the heart of SEO and it is impossible to achieve anything without solid backlinks.
That is because of one of the core algorithms used by Google called PageRank, which grades pages based on their backlinks.
With SheerSEO, you can:
Analyze the value of your backlinks
See your new backlinks
Identify lost backlinks
Get backlink ideas from your competitors
Analyze Your Backlinks
Every backlink has a different value. Multiple factors are responsible for the value you're going to get from each backlink.
The site backlinks screen will show all of your site's backlinks.
You'll also be able to get all the details per each backlink.
The backlinks' data is taken from MajesticSEO (backlink data provider) and further analyzed by SheerSEO.

As you can see above, we show the following per each link:
The PageRank of the page that links to you. This data is taken from MajesticSEO. The Citation flow and Trust flow are scales from 0 to 100 that indicate how valuable is that page and how trust wordy is it. Those numbers indicate the value you will get from that link.
The amount of links on the source page – the more link the source page has the less value it will pass to your page.
The link text – that will influence how Google will categorize your page and thus the keywords it will rank for.
The presence of rel=nofollow attribute on the link – this is an attribute that tells the search engines to ignore the link and not pass value to the target page.
Finding New Backlinks
Notice that you can sort the links by "first seen". That will allow you to identify the newest links found by our system.
Identify Lost Backlinks
The site backlinks screen also has a lost backlinks tab, which shows all the lost backlinks and the date they were lost at.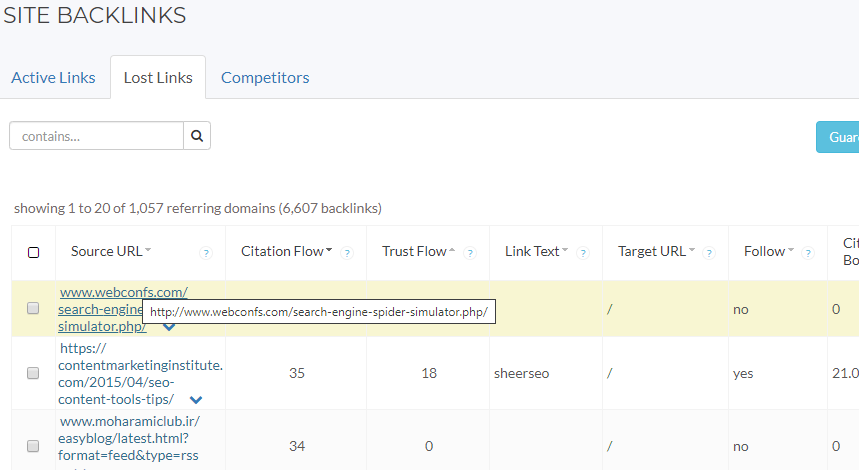 It is a important to try to communicate with the site that dropped the link to try to restore the lost backlink.
Get Backlink Ideas From Your Competitors
To get backlink ideas from your competitors, you can use our Backlinks Explorer feature.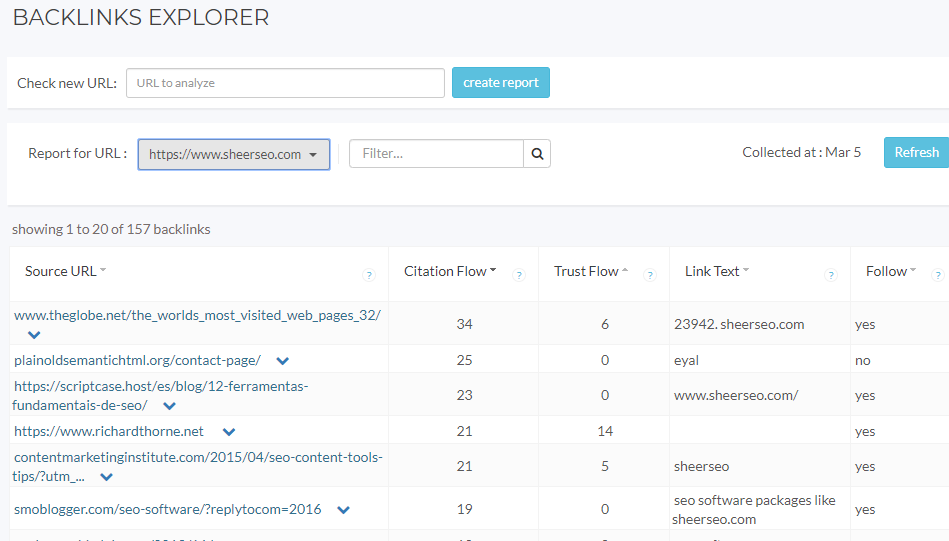 Just type in the url of your competitor and see where they get their backlinks from.
Sometimes, it is as simple as just asking for a backlink from those websites…
Step 4 – Fix Technical SEO Issues
Many time, pages have technical SEO errors.
The good news, is that those are very easy to correct and once that is done, you can improve your rankings.
With the SEO Site Audit feature, you can easily spot technical SEO issues. Fix them, and re-check.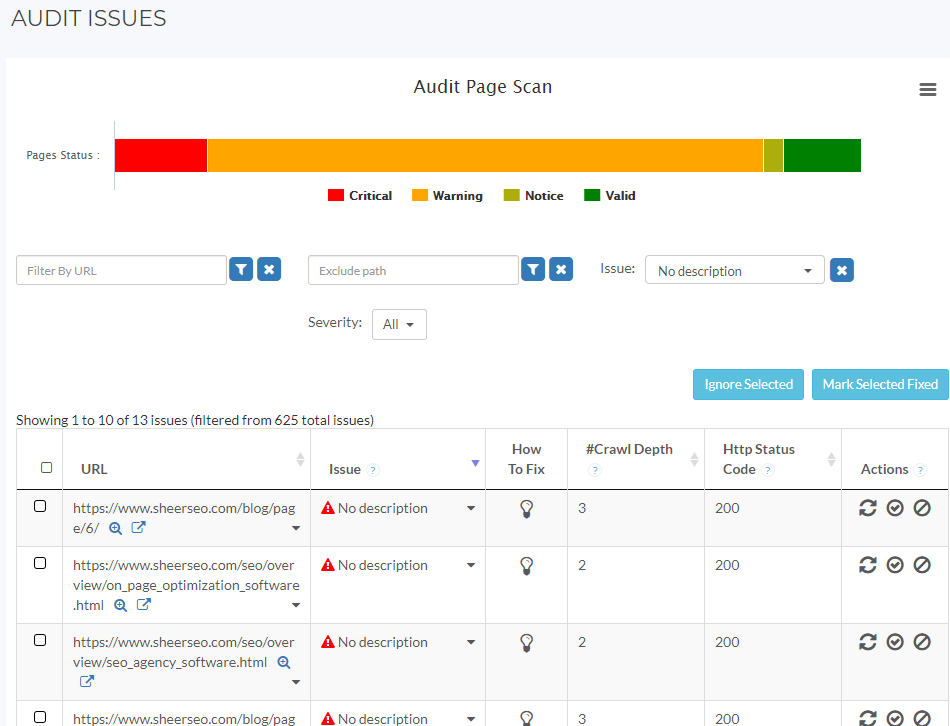 Step 5 – Optimize Pages
So, say you selected your keywords to optimize. What is next?
You need to decide the page that you want to show up in the search results for each keyword.
It isn't wise to try to have all keywords represented by the same page. Your hope page for example.
You should try to have a page that focuses on the targeted keyword. Either use an existing page in your website or produce a new page for that.
Once you have the focused page ready, you can test it using our On Page SEO features.
Page Optimization
Page optimization is a feature that checks how well this page is optimized per the targeted keyword.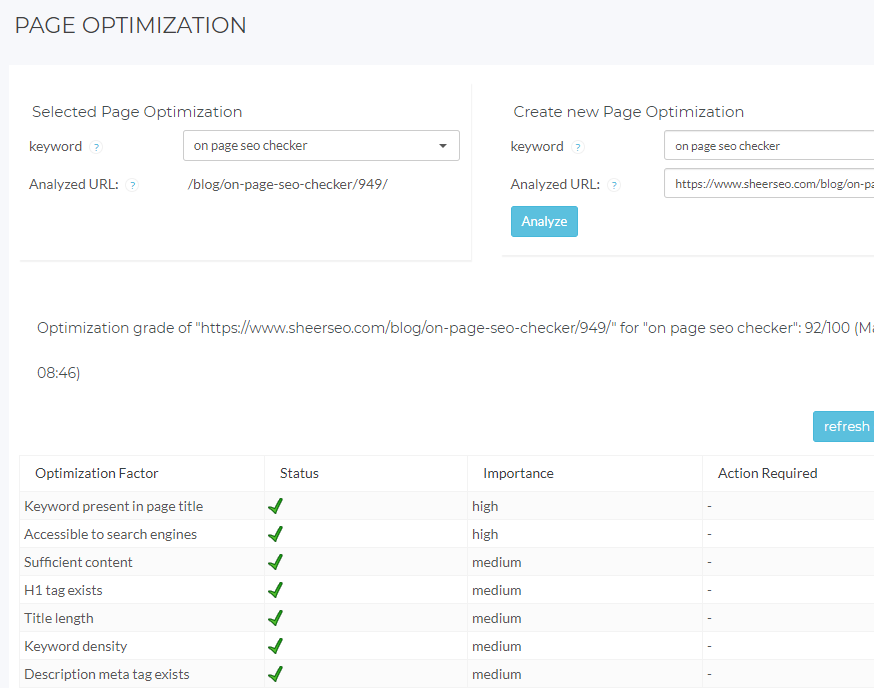 As you can see it checks all relevant issues and shows a score of the current level of optimization.
Content Benchmark
Content benchmark is a feature that takes the optimization to the next level.
It compares you page to the top 10 results in Google for the targeted keyword and finds which keywords are mentioned by them.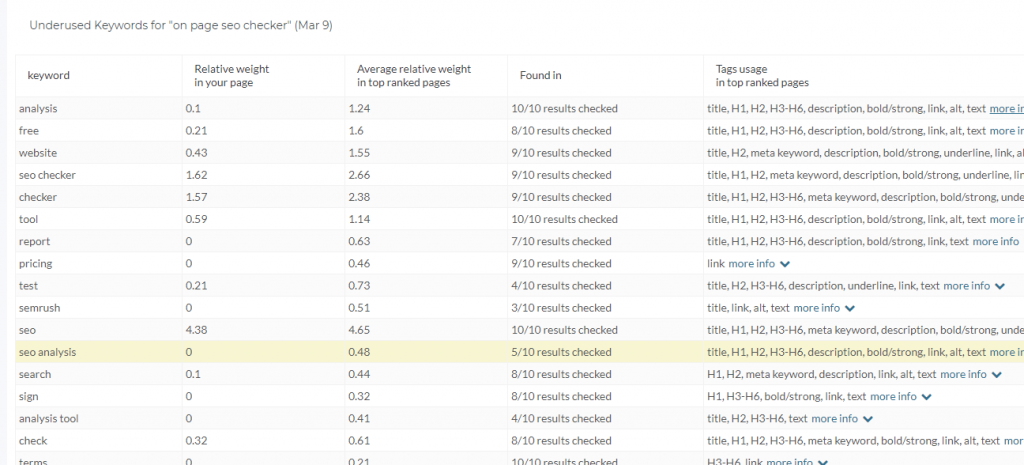 As an example, as you can see in the above example, we are missing the use of "SEO analysis" for the keyword "on page seo checker". Probably a good idea to add that to the content of the page.
Step 6 – Create Some Backlinks
We've already mentioned the importance of creating backlinks. But how to create ones?
So, there are lots of ways to do that. But none of them is easy.
For those of you just starting out your SEO, we offer some easy ways to create backlinks. Those are not necessarily the best backlinks you can get, but compared to the time you invest, it might be worth it.
Paid Directories
Paid directories are an easy way to create a backlink.
We offer a list of paid directories you can use.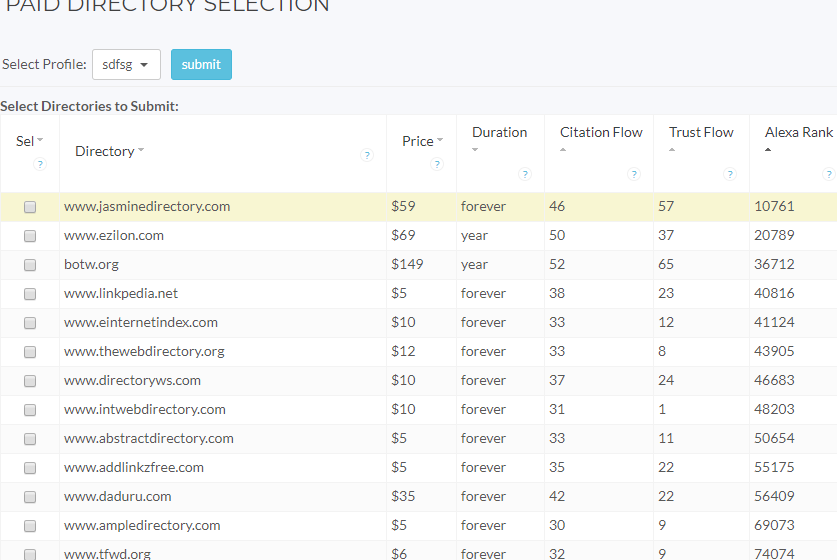 Conclusion
SheerSEO offers a wide range of tools to improve your SEO.
We tried to list the main tools we have to offer and hope you found that useful.
Please let me know if you have any questions or comments.