For some time SheerSEO is using Yahoo Site Explorer as a source for getting the number of back-links per domain. We are aware that it isn't perfect, but it used to be the best option around. Lately, their bugs are becoming ridiculous, making this tool unreliable.
Here is how our results look like in the last months: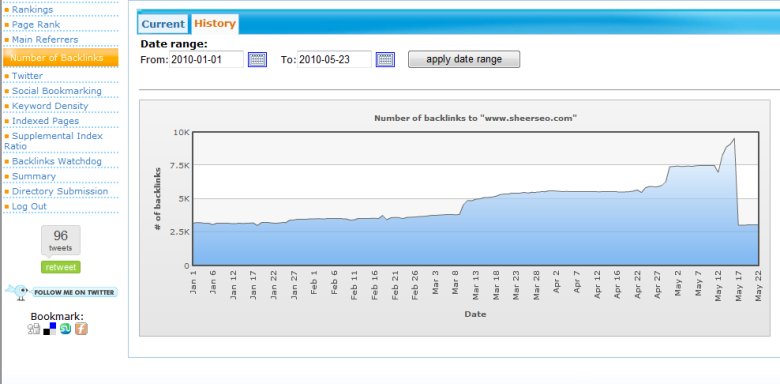 No, we didn't triple our backlinks in 2 months from around 3.5k to 9.1k and lost them back again. This is simply a bug on Yahoo site explorer, which provides backlinks data.
So, why are we using Yahoo for backlinks in the first place? cause as lousy as the data is, it is the best there is at the moment. There aren't many companies that scan all pages over the internet and can give reliable numbers on backlinks. Let's see who those companies are and see what they got.
Google "link:" command
Google probably have the best data on backlinks, cause their main business relies on backlinks, but using their link: command for sheerseo.com yields 117. You can try that yourself with "http://www.google.com/search?q=link%3Asheerseo.com". So, this is obviously not right. Google is aware of that, but don't care much about it. Here is what Matt Cutts had to say about that in his blog: "The link: command has always returned a small fraction of the backlinks that Google knows about, mainly for historical reasons (e.g. limited disk space on the machines that served up "link:" data)".
Google WebMaster Tools
Google were kind enough to show some of their backlinks data on the webmaster tools, but not kind enough to make it really work. This is only a fraction of the links they really have. Here is what Matt Cutts says about this in his blog ( Matt Cutts on backlink tool ): "The backlink tool doesn't show 100% of the backlinks from Google yet, but I expect the number of links that are available to grow". This was written in early 2007, but I guess nothing really changed there, cause SheerSEO has around half the amount of backlinks over the Google webmaster tools compared with the data from Yahoo Site Explorer.
Other Back-Link Counters
From time to time I hear about some other tools that try to track back links. To be honest, they all suck, and had wrong data in them. Let's face it, the task of discovering all pages over the internet and storing their backlink data is challenging, and not many companies can use the right resources to do that. Also, Google and Yahoo have a great advantage in the fact that new sites are being submitted to them, and they don't need to discover them by themselves.
To summarize the issue. I think Yahoo site explorer isn't perfect, but it is the best available option right now. I don't like the idea of Google & Yahoo being the only ones that have reliable data on backlinks over the internet. This also blocks the opportunity of any new company to compete with them in the search engine field. I really wish there was a third party organization that would take this task seriously and keep the data open.
What do you have to say about this?