Change at Google Analytics Integration
Google have recently changed something about their API. This forced us to make some changes on our end, and we also need your cooperation.
If you're using G. Analytics in your SheerSEO account (advanced and pro accounts only), and you're not using the integration with G. Webmaster Tools (which overrides G. Analytics data since it is more reliable), then you need to make a little change to keep the integration with G. Analytics working.
In short, we need you to authorize access to our new G. account and notify our system that the change is done.
In more detail:
Step 1 – Share G. Analytics Data with Our User:
a. Users page:
Login to your G. Analytics account, select your domain, and go to "Admin" screen. Find the "View" column (right most column ) and select "User Management"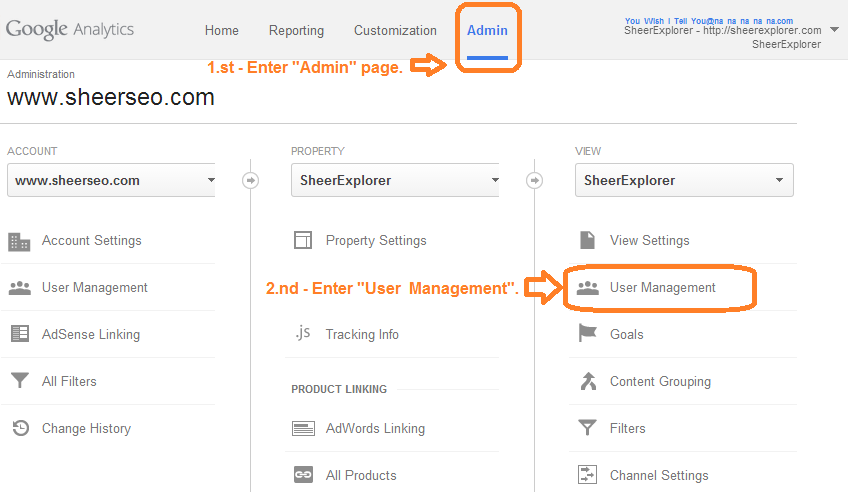 b. Add Permission
On the second block, add our email (account-3@api-project-1097503045745.iam.gserviceaccount.com) make sure that the right permission is given and please don't check the "Notify this user by email".
If everything is OK, Clicking the "Add" button will immediately add a new row on the block above (users list).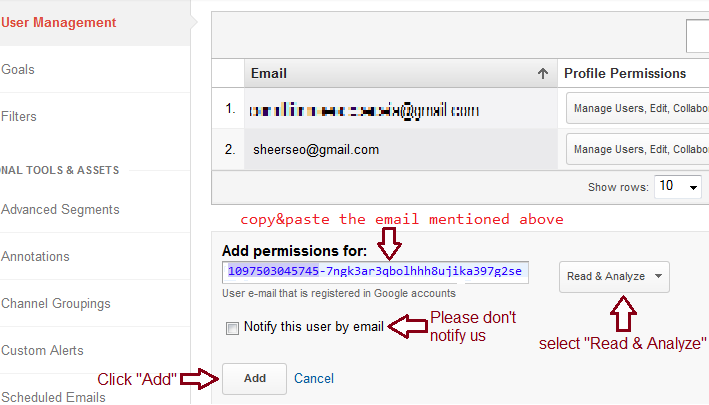 adding google analytics API to SheerSEO software
Step 2 – Notify SheerSEO About the Change
Login to your SheerSEO account and go to "Settings" > "Domain Settings" > "Account Details" screen.
At the bottom of the screen, under the "Google Analytics Activation" section, click the "enable" button.
If everything is OK, the activation section will disappear and the status (marked in green) will change from "disabled" to "active".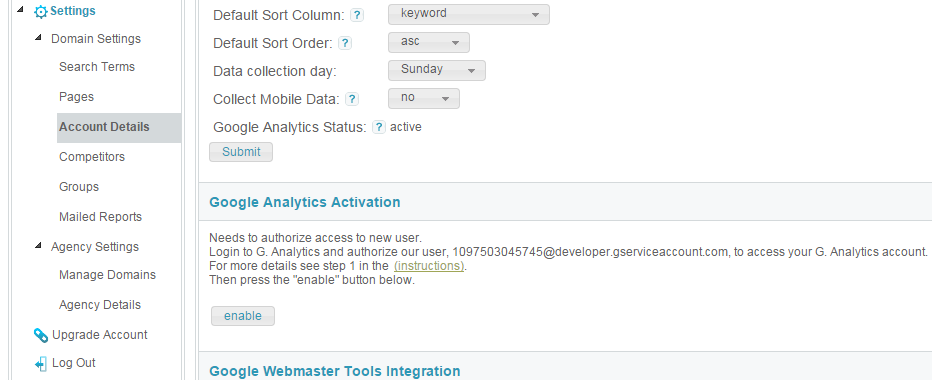 If this didn't work, you'll see an error message. Failure will probably be caused because the data sharing wasn't done properly. If all goes well, you should now be able to go to "Rankings" > "Current" screen and see the "Real Clicks" column.