We now started supporting localization per zip code in the US.
Since Google now localizes the results not only per country, but also per specific city, or even regions within the city in bigger cities, some businesses need to see how they are doing in the SERPs for those localizations. This is mostly relevant to businesses that target their local people. For example, a coffee shop in Denver needs to know their rank in Google's results for "coffee shop" when someone searches in Denver, but it is irrelevant for people outside Denver. Same goes for a plumber. He needs to rank only in his local town, and doesn't expect to be invited from people in other states in the US.
As mentioned, Google can figure out your location (based mostly on your IP), and then serve the results that fit you most.
Now SheerSEO enables you to find how you rank for a specific location based on US zip code (5 digits number). You can either set that from the search terms screen, effecting only specific keywords you need, or can set the default localization for the website and have all added keywords affected by that default.
Let's start with adding one keyword that is localized per zip code. We go to settings>domain settings>search terms screen, and add the keyword in the format "keyword**us**zip code" (note this only works in the US), for example "seo software**US**01040". 01040 is the zip code for Holyoke, MA. Then just press submit.


Now, we can see the keyword added with the zip code in the rankings screen:



Note how this result is different from the country level localization rank next to it.
If you know that all of your keywords need to be set to this localization, you can set this as default in the settings>domain settings>account details screen.
See here: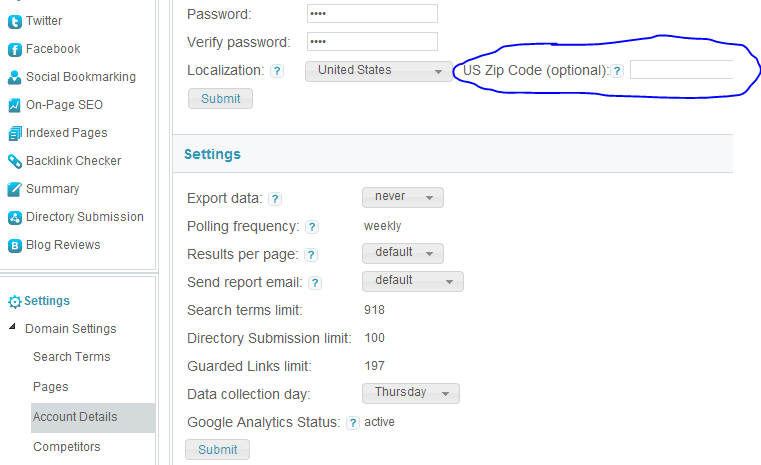 Once you set this, you will no longer need to write the "**us**zip code" part when you add new keywords. The localization set in the account details screen will automatically be applied to them.
Note that the default doesn't effect the keywords you already added before. Only the ones you'll add after setting the default localization for the website.
Note: if you have a default zip code set, but still want to add keywords that are localized by the country level, you can do that by writing "keyword**US".
Hope all of these explanations make sense and you'll like the new feature.
Update – October 29 2014
We now also support this feature for the UK. Same instructions as with the US zip code.
Note that UK zip codes are a mix of letters and digits. For example, NG1 is one of the codes for Nottingham.
Here is an example showing multiple areas for the same keyword rank differently: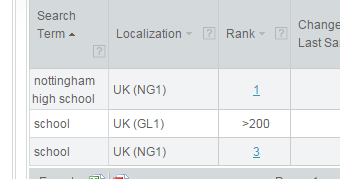 Eyal Aldema
Founder & CEO of SheerSEO