Google, the world's largest search engine, is committed to helping users to find the answers and information they need.
As part of this dedication, it offers businesses a free My Business Listing, which allows them to share details about their company.
These listings offer a myriad of benefits for firms, including helping consumers to find their physical premises, giving internet users instant access to updates such as opening and closing times, and much more.
Despite the advantages the listings have to offer, in 2016, studies showed that 56% of local businesses hadn't taken advantage of Google's free listing option, which is an astonishing figure.
To help any business that isn't sure of how to use this solution to their advantage, I'm going to discuss how you can use your My Business Listing to grow your company's online presence.
How The Listings Work
Google's business listings allow users to create an account and then claim their free business listing. It doesn't replace your website; instead, it acts as a sort of free advert for your company.
Businesses can choose to include a description of their company, photos, contact details, opening hours, and even customer reviews.
Companies verify their listing by responding to a letter, or email, which Google sends to them. Once you've verified your listing, then you'll be able to change it, and it will be visible to internet users.
Use Your Listing To Help Boost Your Local SEO
Local search numbers are growing year on year, and as a result, you'll be missing out on extensive traffic if you don't optimise your website for local SEO.
Your firm's My Business Listing is an easy, free way that you can boost your local SEO and help consumers to find your company.
When they search for a company like yours in their local area, then your company's listing will appear in a local business list.
For example, if we search for 'shoe shops in Oxford', then we can see a list of the top shoe stores in the area. Users have the option to expand the window to see a map with even more listings.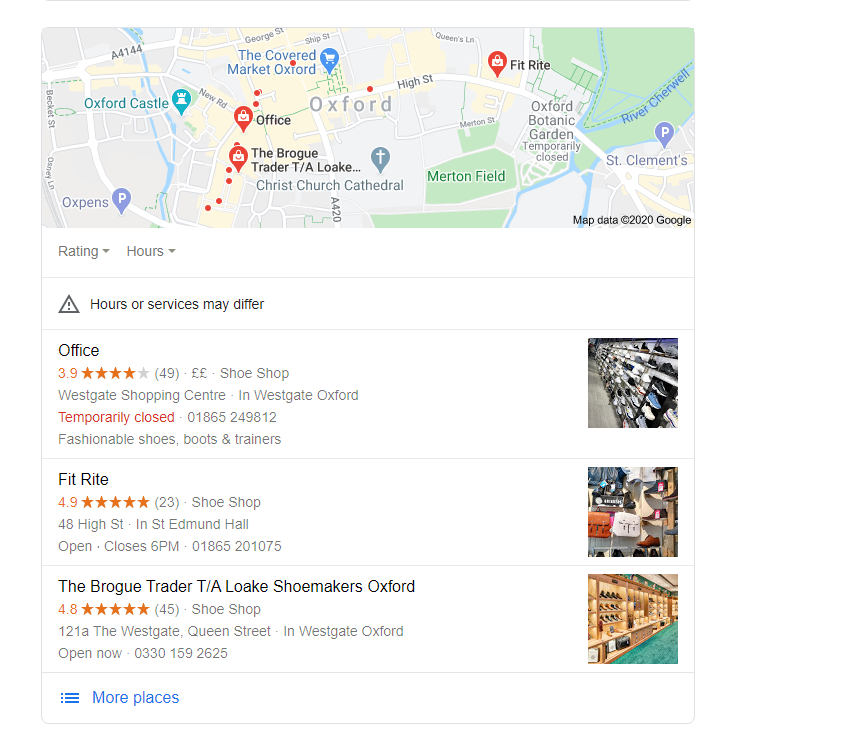 As the above shows, you can get your company and basic details such as its address and contact details to the top of relevant local SERPs by using your listing and filling it with relevant details.
All you need to do is fill out the listing and include a comprehensive range of details, as well as a detailed, keyword-filled description. The more detailed you can be, the more likely Google will be to recognise that your listing is valuable to users.
Relevant keywords are crucial, because, much like any SEO strategy, when optimising your Google business listing, you need to make sure that users can find your listing and that it appears in relevant searches. If it starts appearing in the wrong places, then you'll be reaching the wrong audience and won't be able to benefit from your listing.
Add Service Areas To Boost Your Listing's Relevance
Google offers businesses the chance to add service areas to their listings so that they can reach the top of relevant searches.
Add all of the service areas that your business operates in to ensure that your company reaches users who want to find your company.
If you select the box that says 'I serve customers at my business address', then your listing can be adjusted to show more information about your premises and opening hours. It will also direct customers to your physical base, so you can show them that you will be available and ready to help them there.
Offer Customers Easy Ways To Get In Touch
If you use your company's My Business Listing properly, then potential customers won't need to search for your contact details.
Google allows you the option to include a phone number, email and social media links so that you can offer users a variety of ways to get in touch with your company.
In today's digital world, convenience is king, with consumers constantly searching for easier ways to complete even basic tasks.
As such, if you can offer them convenient ways to get in touch, then they'll be more likely to reach out to your business.
Manage Reviews
Companies can allow reviews on their Google business listing, which allows you to improve your online reputation and show customers the benefits of working with your organisation.
To ensure that reviews are always accurate and that any criticism or feedback is incorporated into your working practices, you need to monitor your reviews and respond to them.
By responding promptly and respectfully to every review, you'll show Google users that your company is actively working to promote itself and support its customers. Businesses that leave their reviews without responses might seem uncared for, and users might even think that your business has closed.
Managing your reviews proactively, on the other hand, will make your business look professional and vibrant. Many other review sites charge companies for accounts or don't have the vast global reach that Google does, so the reviews section on your listing is highly valuable for your business.
Update Customers Quickly And Easily
Using your My Business Listing account, you can quickly share updates with your customers. When your listing appears, it will include an updates section, which will prominently display the latest update you've shared.
Include a short description, and then a call to action such as a link to a website for more details.
Here's an example of a small cake shop announcing a new product:

The emojis make the update eye-catching and fun, while the short description tells users everything they need to know, including price and the date from which they can order the product.
For more in-depth information, you can include a link to a page or, as is the case in the above example, a link to allow users to order the product online.
You can also update details such as your opening hours, by simply changing them on the listing. Then, when a user searches for your company, they will be able to see when you're open quickly.
By keeping your listing accurate and up to date, you'll be able to ensure that users can make the most of it, and increase your chances of getting more business. If your listing is inaccurate, then users could report it to Google, and they might also get annoyed and refuse to work with your company in the future.
Conclusion
Google's My Business Listings are a free solution that you can use to boost your site's SEO and brand authority. As such, there's literally no reason why your business shouldn't be making the most of theirs.
This article should help you to see the benefits of your My Business Listing and how you can use it to your advantage.
Hannah Stevenson is the Content Marketing Manager at UK Linkology, the UK's highest-ranking link building agency. A former journalist, blogger and copywriter, she has extensive experience in content creation and SEO. Her writing on local SEO is extensive, and she loves to talk about how it can benefit a wide range of businesses.