I'm happy to announce on our newest feature, called "page optimization". One of our most common tasks in SEO is to optimize a page for a certain keyword. Usually this involves altering the page to have the keyword in the title & H1 tag, improve keyword density of the keyword in the page. Maybe add it as an alt text to one of the images. Having it in the keywords meta tag and description tag, etc.
So, a typical scenario could be someone who uses SheerSEO and sees that he has a page ranking pretty well for a certain keyword. Next logical step is to make sure the page is well optimized for that keyword.
So, here is one example, taken from our online demo (where we track our own site, sheerseo.com):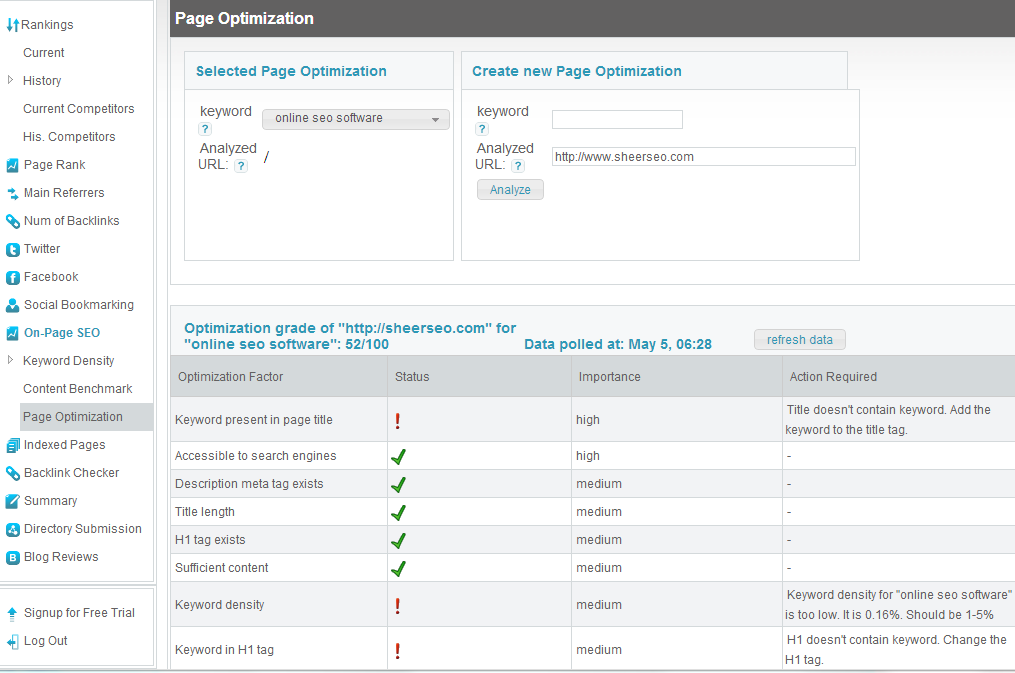 We want to optimize in this example the optimization of our main page, https://www.sheerseo.com for the keyword "online SEO software".
For start, we see an optimization grade on the top that says we get 52/100 for the optimization, so there is some work to be done. Next we look at the table of optimization factors and we can see that while we are doing well for some factors, like accessibility to search engines, we are not doing well for other optimization factors, like having the keyword in the title tag. This is up to us if we like to improve those issues or not. We might want to leave the page as it is since it is currently optimized for more important keywords. If we do want to improve something, we can see the required action on the right most column of the table, and act accordingly. once we have finished the work, we can use the button on the top right to refresh the data. It will go and check our optimization once again. Hopefully, the new check gives a better grade, and we got one less issue to worry about.
Restrictions
This feature, as many others, will only be shown to clients that own the account. Or, in other words, will not be exposed to accounts that are part of an agency account. This way, only the owner of the agency account can use this feature, and his clients will only see the reports like rankings, etc.
As for the limits for each package. Basic packages, light, standard and agencies with basic features, can only perform one test a month per domain. Advanced package accounts (and agencies with advanced features) are allowed 50 tests a month per domain. And finally, professional thin and professional packages (and agencies with pro features) are allowed 100 tests a month per domain.

Eyal Aldema
Founder & CEO of SheerSEO