Google announced this on they blog: "Starting April 21, we will be expanding our use of mobile-friendliness as a ranking signal. This change will affect mobile searches in all languages worldwide and will have a significant impact in our search results".
What this means for us, the people that take care of the presence of websites in Google's search results, is that we are forced to make our websites more mobile friendly. I personally hate the idea, since usually being mobile friendly means that the website is stripped from the graphics and the fonts becomes larger. Then, you can't see all the content in the page in a brief look, and zoom in as I do today. You just see 2-3 paragraphs at a time, and you have to scroll endlessly to see all the content. If I have the option, I always choose to see websites with their regular looks instead. But now, with this recent Google change, most websites will be forced to make those changes.
Anyway, we just launched a new feature that allows you to track websites' rankings on mobile searches. It could be different then your regular desktop rankings. So now, it is not enough to know how you rank for google. You need to know how you rank also on Google mobile searches. Our new feature enables you to do just that.
Here is how it looks like: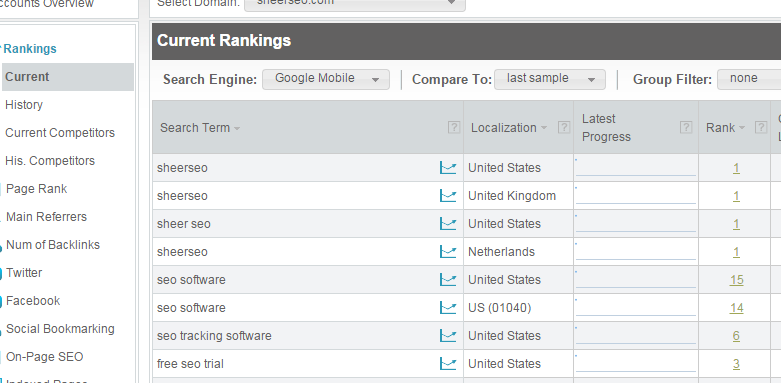 Notice that search engine selection box says "Google Mobile". So, these are rankings for Google mobile and not the regular rankings you see when the search engine selected is "Google". You can also see the mobile results in the historical data and of course, as always, you can export the data into PDF and CSV reports.
Now for the costs. The mobile collection doesn't happen by default. You need to specifically activate it, and it doubles your keywords consumption. So, if you have for example a light license, that is limited to 20 keywords. If you activate the mobile collection, you are limited to 10 keywords. As another example, if you now have 13 keywords with a light license, and you want to activate the mobile collection, you'll need to either expend your keywords limits (by upgrading the license), or delete some keywords, to be within the 10 keywords limit.
To activate the mobile collection, what you need to do is to go to settings>domain settings>account details screen. From there, find the "collect mobile" option, and select "yes". See here: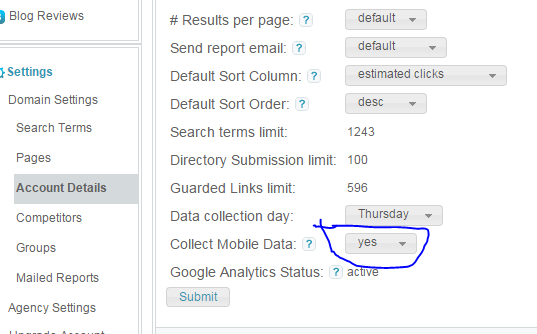 It will show a warning message that you are doubling your keywords consumption. You should confirm. Then press submit. That is it. Your mobile rankings will start being collected and you can see them as described above.