What is it?
SEO keyword research is the process of finding the right keywords to promote.
This might be for a new website, where we are choosing the first keywords to focus on.
Or, it might be for an existing website, which already ranks for many keywords, and we need to choose the next keywords we want the site to rank for.
Why do it?
If you are doing SEO, you must pay attention to the keywords you focus on.
If you are not promoting the right keywords, you are basically wasting your time.
In SEO, the first step, before anything else, is to do keyword research.
Sometimes, we think we know what the keywords people are searching for, but reality may be different. Do not skip this critical step in SEO!
Common Mistakes in SEO Keyword Research
Choosing keywords no one is searching for – you might be investing time in creating content and backlinks for a keyword that has zero searches on Google. Even if you rank first, it will be useless.
Choosing keywords that are hard to rank – you can choose a keyword that has many searches, but on the first page of results you have big sites like cnn.com. Your chances of ranking there are slim at best.
We will explain further about choosing the right keywords in the next sections, but for now, you should understand what could happen of you make mistakes in your research.
Necessary Tools for Keyword Research
We must know the search volume per keyword and the competition.
All tools over the internet that show you search volume, take it from Google Keyword Planner.
As an example, let us try to do keyword research for a website about "artisan bread".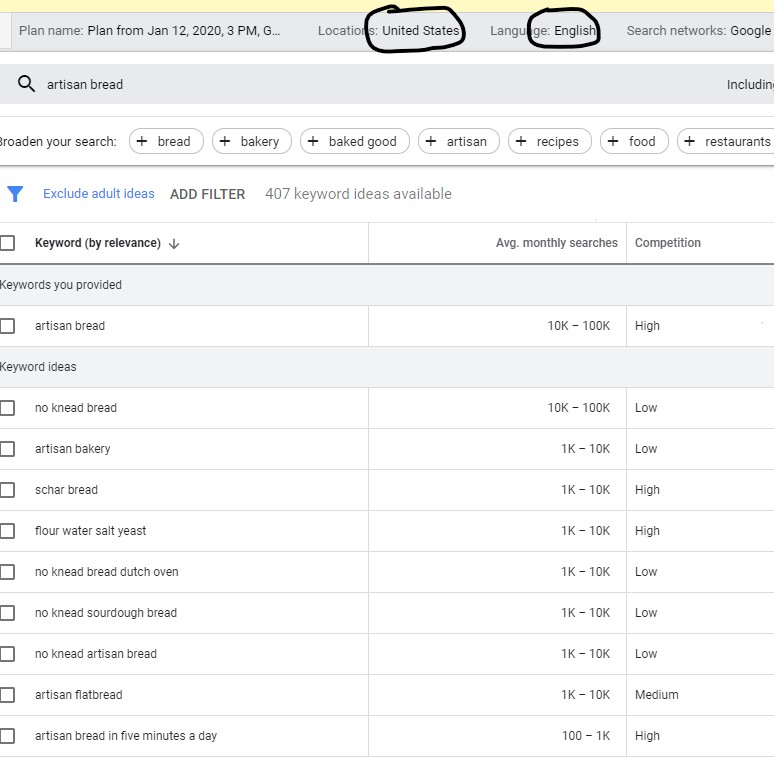 We can use Google Keyword Planner to get suggestions and see volumes:

Notice that you must have a Google Adwords account to use it, and it will only show you exact volumes if you are a paying Adwords user.
If you are not a paying customer of Adwords, you'll see data ranges, like in the above example you see "artisan bread" gets 10k-100k searches. Pretty big range there.
If you can not use the Google Keywords Planner for some reason, another alternative is to use the keyword surfer browser plugin.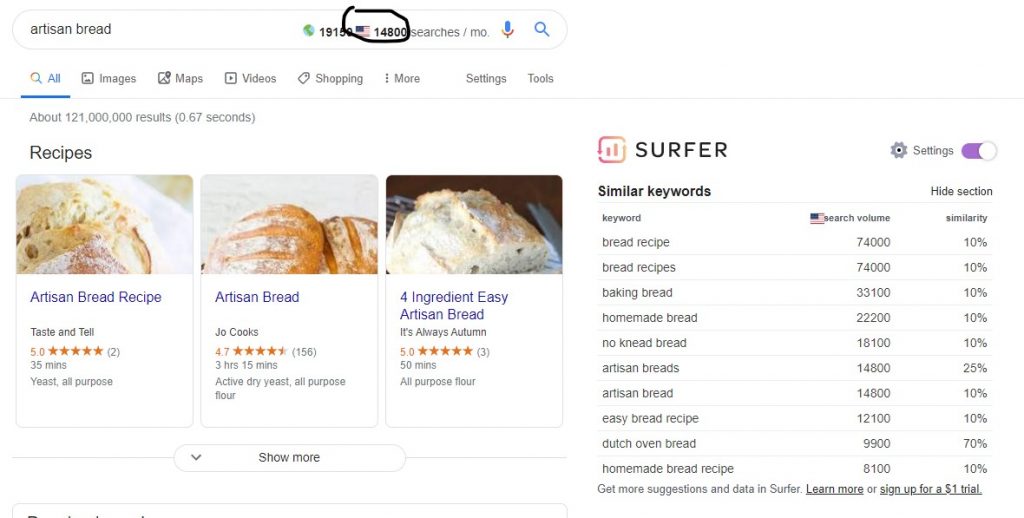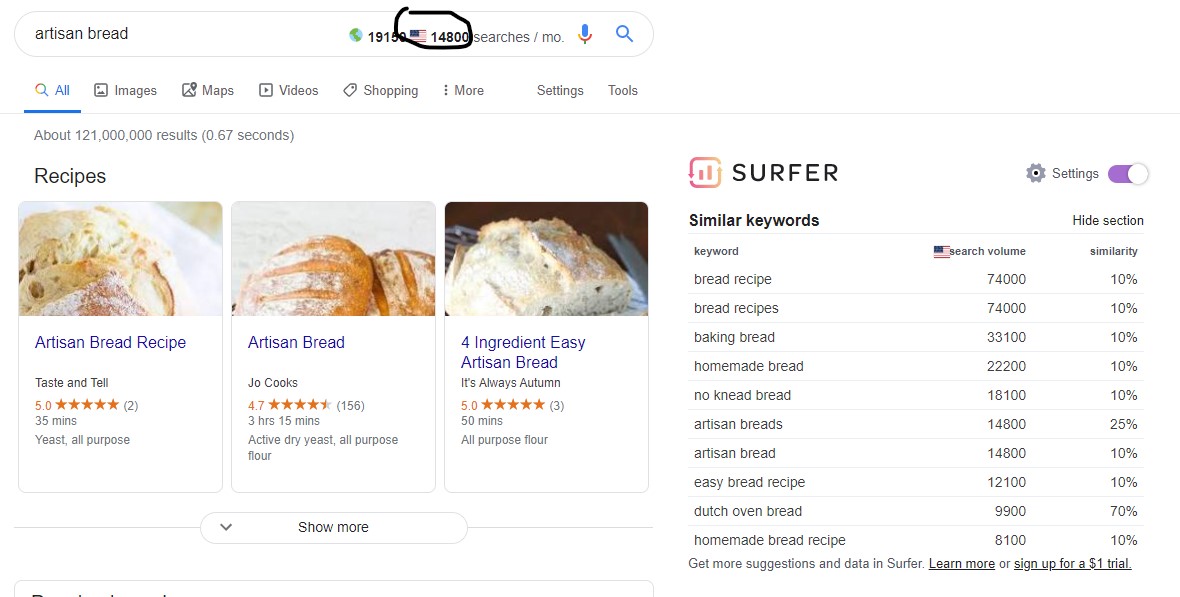 Here is an example of how it shows search volume data per a search:

At the moment, keyword surfer is still free.
Another option is to use our (sheerseo) data, on the Keyword Explorer screen. You can do that with a free account, though it will be with limitations.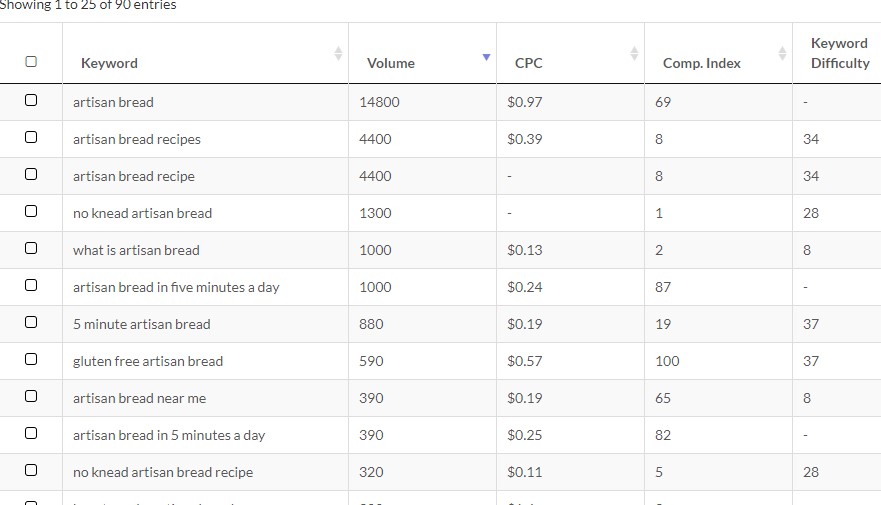 Here is a screenshot from the Keyword Explorer (searching by phrase "artisan bread"):

As you can see, we uncover the real keyword search volume, plus give a lot of extra helpful information.
Another great free tool for discovering related keywords is Google's "People Also Ask". Here you can see the ideas we get from it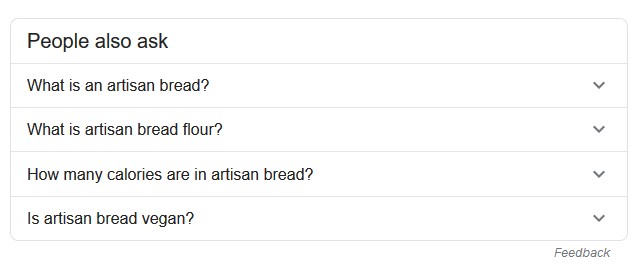 How Do I Start Doing Keyword Research?
You start by understanding the website. What is it about? What problems does it solve?
Then, you need to build a list of ideas around the site's business.
So, let's do an example with a business that specializes in "artisan bread".
First Method – Use Keywords That Contain Our Main Keyword
Our main keyword in this example is "artisan bread". We can see it has a volume of 14,800 searches/month in US.
We need to figure out how difficult that keyword is. We will explain more about deciding the difficulty later. But for now, let's say we look at the first page of results, and see this: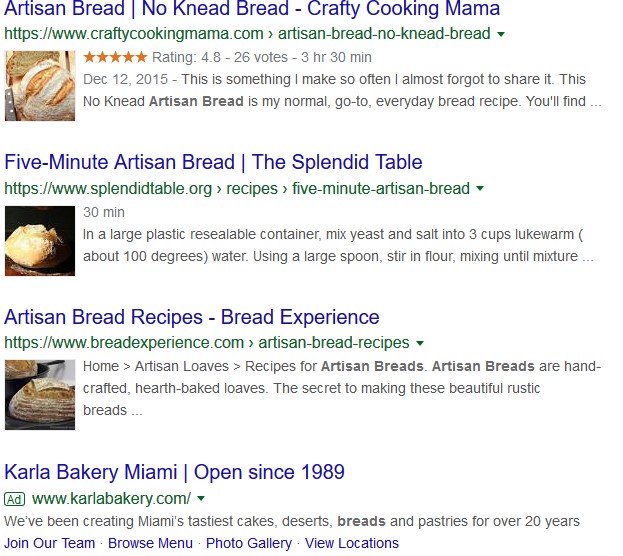 We might decide that even the results at the bottom of the first page are hard to beat. So, we need to move to keywords that are easier to rank for.
If we look again at the keyword ideas we got from sheerseo: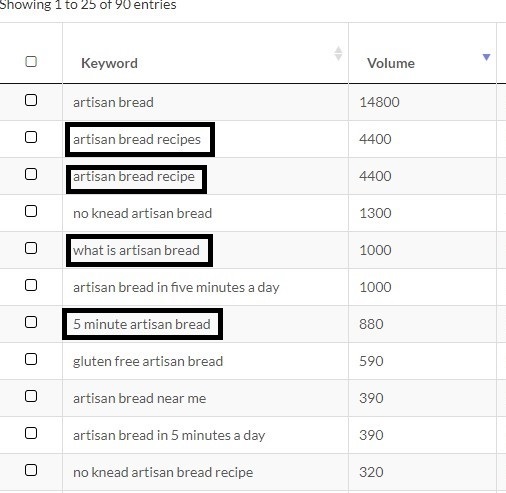 Seems that other keywords with less volume, could be good candidates. If we decide the competition there is easier, it could be a lot more fruitful to focus on that.
So, that shows us one method of keyword research, where we start from the main keyword and find ideas from keywords that contain it.
Second Method – Spy on Your Competitors
Another great way to do the research is to start with our competitor site and see what they rank for. If it works for them, it should do well for us as well.
So, say we decide that breadexperience.com is a competitor with similar business as our website.
We could search for it and see what it ranks for: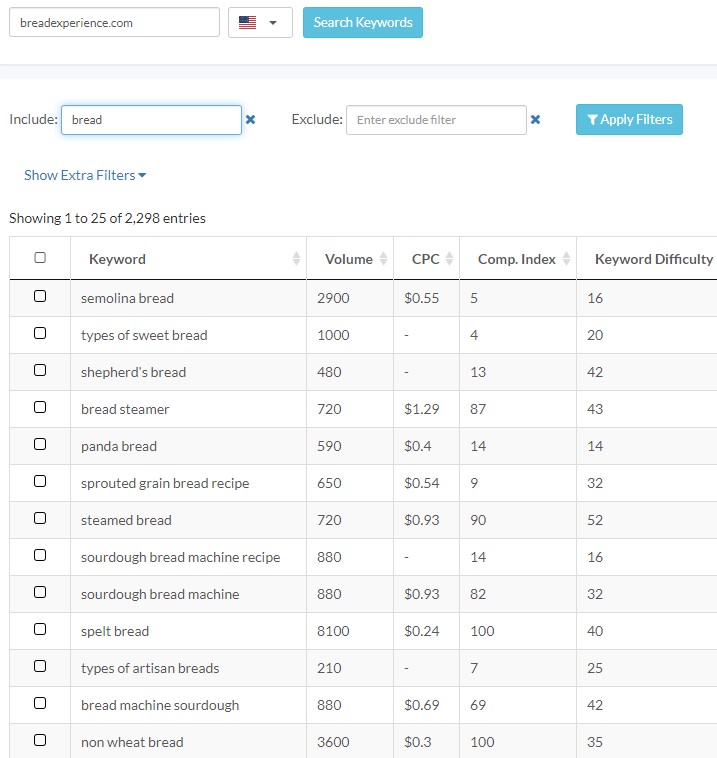 We might find great ideas that we never thought of and decide to add those to our list. Heck, we might even decide it is time to add new stuff to our business.
The image shown above is from sheerseo, but other tools can do this too, like Moz and SEMRush.
Competition Index and Keyword Difficulty
We have mentioned that we need to check how strong a keyword is before we add it to our list of promoted keywords, but how do we do that.
One way, mentioned above, is simply to look at the first page of results from Google and decide how strong the websites there are.
Another way is to use the Competition index, which is a figure given at Google Keyword Tool. The problem with this number is that it is not specific to organic search and is supposed to measure paid competition.
Keyword difficulty, is a measure given be various SEO softwares, which mimics what we did manually when searching the first page of results and deciding how strong are the websites that rank there.
As you can see below, "semolina bread" has the highest search volume with almost the smallest keyword difficulty. So, it looks like the best candidate to rank here.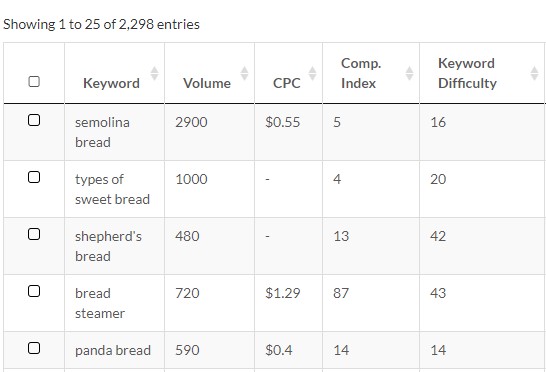 What About Local Search
If our business is built on local and not national traffic. We should take that into consideration.
First, to get good data, we will have to use Google Keyword Planner. It is the only tool that will show local data and not just national.
Second, we might take much broader search terms here, since our competition locally should be much easier than national competition.
So, for example, if our business is based and targets New York area, we could aim "artisan bread" and not the easier keywords.
Here is how it looks like in New York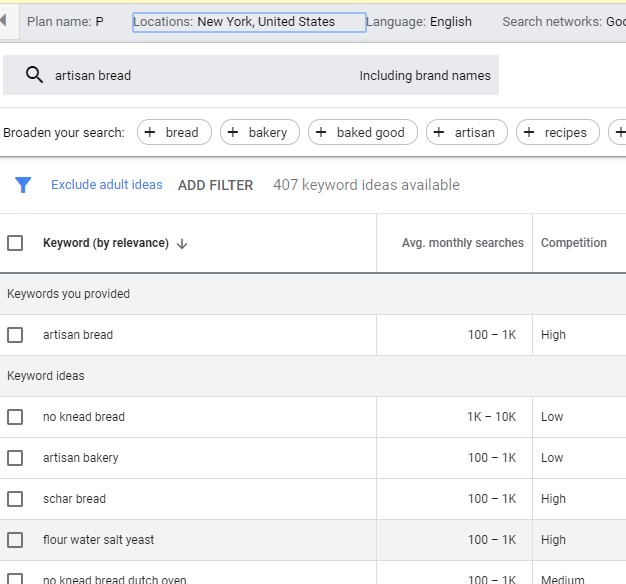 Note the competition is easier, but the volumes are lower than national.
Beware of Google Search Features
One of biggest changes in Google search lately is the introduction of Google search Features.
Google search features are multiple information items that appear above the organic results and reduce user clicks.
The most critical search features are the featured snippet and the knowledge panel.
Here is an example of a featured snippet: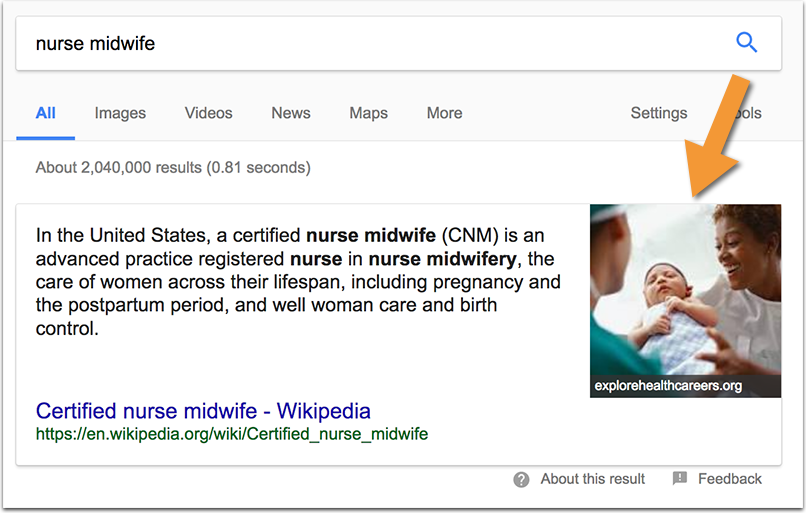 Beware that strong search features can reduce user clicks by more than 50%. So, this needs to be taken into consideration.
For example, a keyword with 2,000 searches with a featured snippet, might be weaker than a keyword with 1,000 searches without a featured snippet.