I'm happy to announce on our newest feature. Site Audit.
It is a great tool for finding technical SEO errors within your site's pages. The SEO issues include things like slow load time, missing titles, missing H1 tags, duplicate content, broken images/JS files/Css files. Overall, we check for more than 50 issues and show you.
Let me show you the main things you can get from it.
View Site's SEO Issues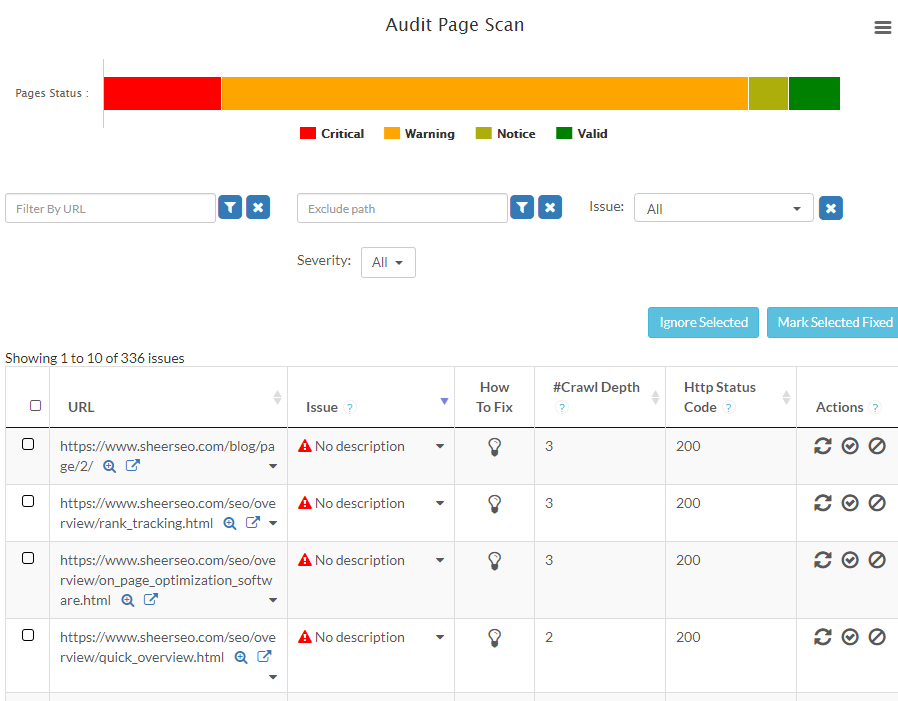 As you can see it lists all of you discovered SEO issues. Usually, there are many of them, so you can use the filters to filter them by severity, path, or by the issue.
One great feature here, is that you can see a summary of the issues by opening the "Issue" filter: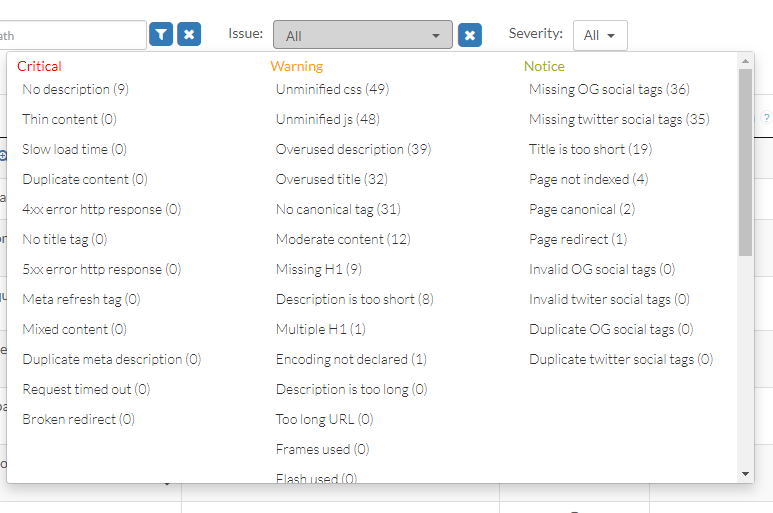 As you can see above, it shows a summary of all the issues you have. You can press on each issue, and see those items.
The SEO Errors we Detect
We check more than 50 types of common SEO errors in each page scanned. Those include:
Title – too long, too short, not exists, duplicate, overused in multiple pages.
Description tag – too long, too short, not exists, duplicate, overused in multiple pages.
H1 tag – Too long, multiple tags in page, not exists.
Slow load time.
4xx http response code.
5xx http response code.
Time out.
Redirect chain.
Broken redirect.
No canonical tag.
Too long URL.
Temporary redirect.
Social tags – missing, invalid.
Frames used.
Flash used.
Duplicate content – we identify that using The COPS algorithm written by Google founders.
Broken images.
Broken JS.
Broken CSS.
Thin/Moderate content.
Handling an SEO Issue
So, let's say you want to fix some of the issues. First, you can open the issue by clicking on that row and learn more about it and how to fix it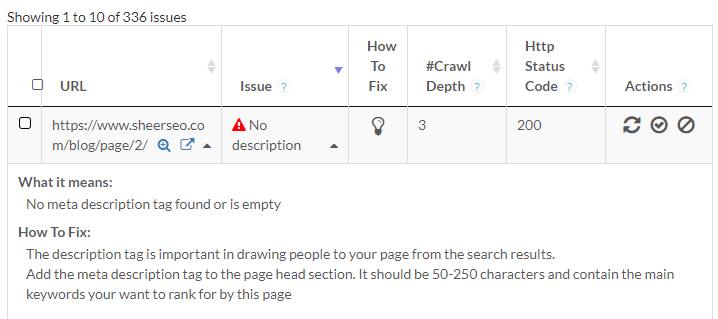 Once you finished correcting the issue, it should not show up next time we check that page. But if you want to remove that issue right away, you can use the actions on the right column:
1. Press "mark as fixed" (middle action), so we will not show this issue. But on the next scan of this page, if we find this issue is still there, we will show it again.
2. Press "recrawl page" (left action) to crawl the page now. If we find the issue fixed we will remove the indication.
One last action is the "ignore" (right action). It means that you don't want to receive this indication. This could be that you don't think it is worth the time, or you don't think this is a valid indication. It will not show ever again, so be careful with that.
Issues by Page
You can also see all the issues by page and get some more info on that page. This is convenient if you want to focus on a specific page.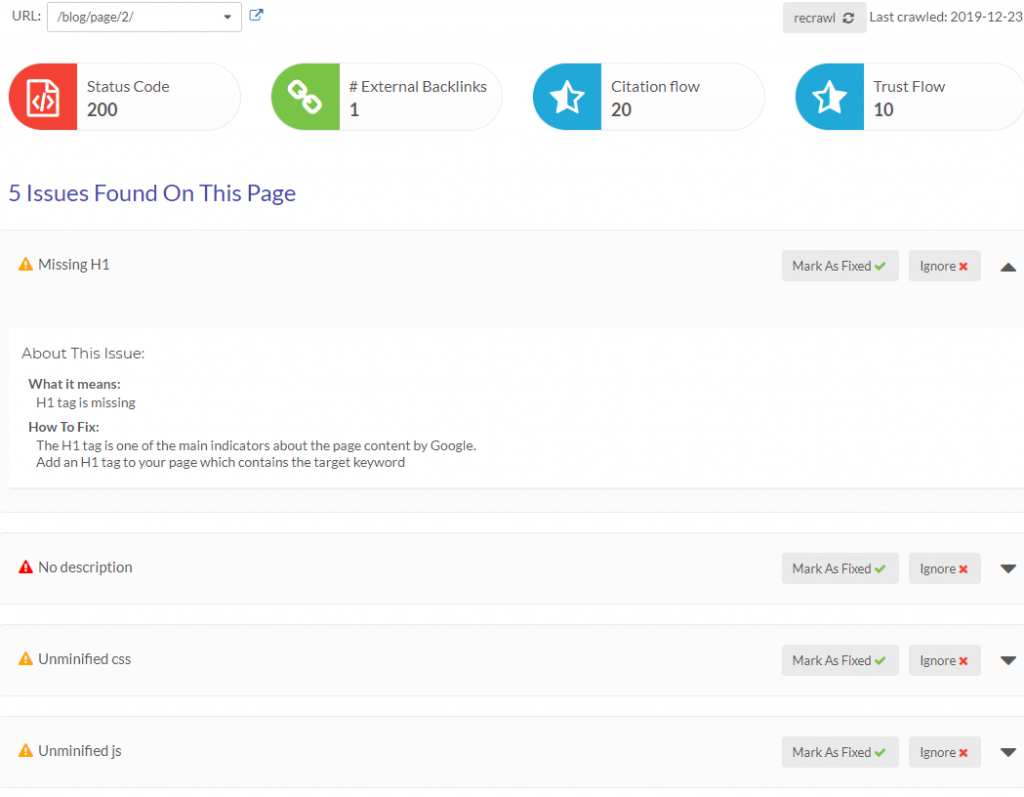 Overview Screen
The Site Audit overview screen is great for viewing the overall status of your site audit issues.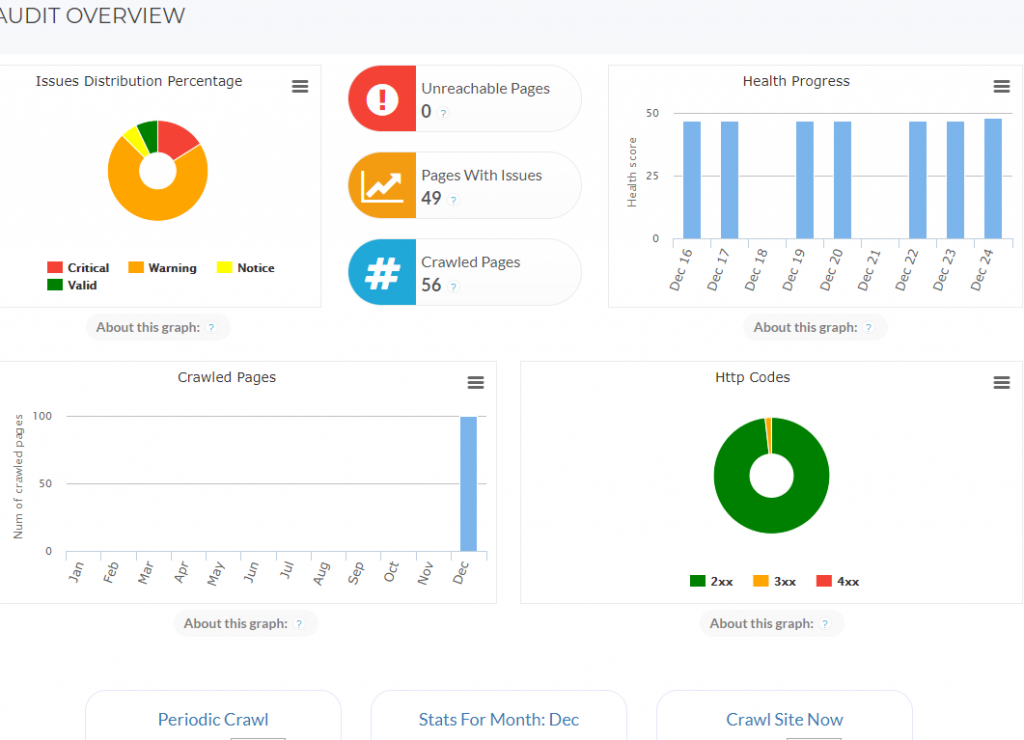 The health progress could show you how you're doing in terms of improving the status of the site.
The Issue distribution is also handy in visualizing the amount of issues you have by severity, and you can also click any of the severities and go directly to the issues list screen filtered by that severity.
The "Crawled pages" simply shows you how many pages were scanned. each month.
On the bottom of that screen you can configure your site crawls.
Hope you enjoy this feature. Let me know what you think.