Google Search Features are becoming very critical to SEO these days. Google has managed to divert more than half of the visitors to the search results to non organic results. See our search features post if you want to learn more about search features.
So, it is time for us to help our users track search features. We need to both show what the search features that Google have per each keyword and the presence of the website in any of the features.
Here is what we ended up with: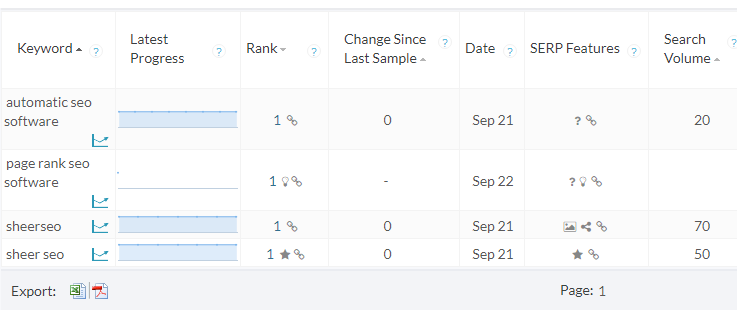 As you can see above, we got a new column in rankings screen, called "SERP Features". Those show which search features show up for that search in Google. To see what each icon stands for, just hover the mouse over it and you'll see a tip about it.
Note that some of the search features icons are also present in the rank column. Those show which features show up for the result from the site that is being tracked here. In the example above we track our own website, sheerseo.com. As you can see, for the keyword "automatic seo software" Google shows the features "site links" and "people also ask". Our site is ranked first for that keyword, and it also has "site links". That information is critical to SEO, because the first position would normally get 40% of traffic, but the fact that our result comes with site links means that we might get even 50% of traffic.
Let's also go through two examples from the image above, taken from an account that tracks our own site, sheerseo.com, and see how they look like in Google results:
For "automatic seo software", Google has in the search results "people also ask" section and site links. Our site, ranks first, and has site links.
For "page rank SEO software", Google has "people also ask", "Featured Snippet" and site links. sheerseo.com, is ranked first and has site links and show on the "Featured Snippet". Here is how it looks like:

You can see how powerful the featured snippet is. It shows above the organic results!
We also added the ability to filter by search feature: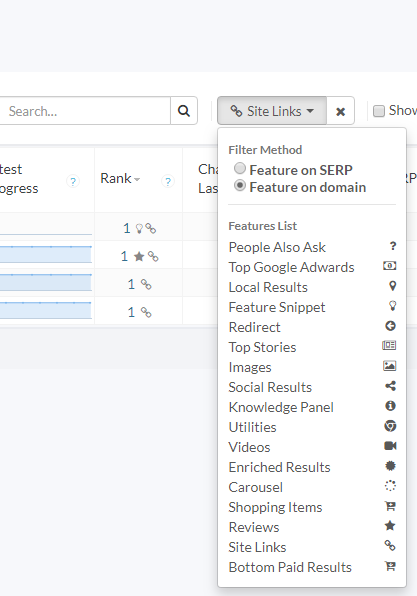 You can select to filter the results by each of the search features, either by its' presence in the search results, or by its' presence for the domain you are tracking.
Let's go through all of the icons and briefly explain what they are. For more information, you should see our search features post.
Search Features Icons
– People Also Ask
– Top Google Adwards
– Local Results
– Featured Snippet
– Redirect
– Top Stories
– Images
– Social Results
– Knowledge Panel
– Utilities
– Videos
– Enriched Results
– Carousel
– Shopping Items
– Reviews
– Site Links
– Bottom Paid Results
Hope you like it. If you have any comments, please let us know.