Use Data from Google Analytics
In the advanced and professional accounts, we allow importing data from Google Analytics. This information allows to show the real amount of visitors who resulted from organic search for each of the keywords tracked.
The data, taken from G. Analytics, which we call "real clicks", is then presented with the rest of the rankings data. So, this makes is easier to understand the benefits gained from the keywords ranked in organic search results.
Here is how it looks like (the "real clicks" column is the data taken from G. Analytics):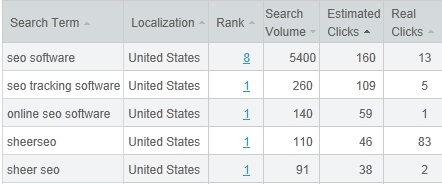 Automate your SEO process. Try our 60 day free trial!
Sign up now!