SEO Competitor Analysis
You can use SheerSEO to track and analyze your competitors.
SheerSEO can track their rankings in search engines and analyze their main referring sites.
This feature, which is part of the professional package, allows you to track up to 5 competitors (can be upgraded to 10).
Compare Rankings
With the professional licenses, you can compare your rankings to your main competitors. Such a comparison is always helpful in giving you extra motivation.
Rankings comparison is available in current and historical formats.
Here is how the current rank comparison screen looks like: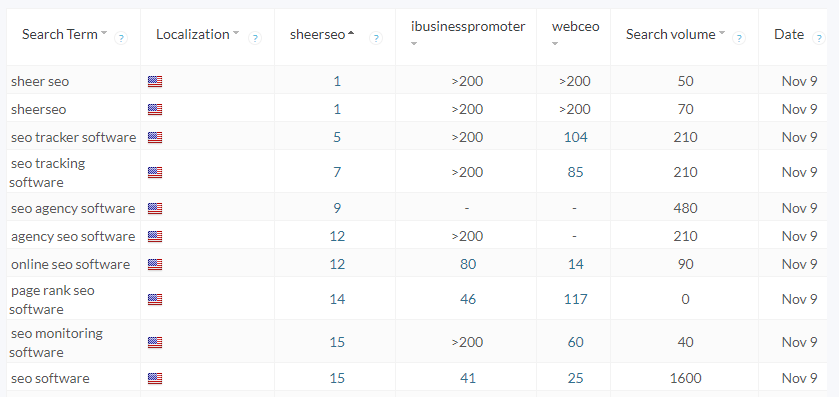 You can choose to see the results on either Bing or Google by using the "Search Engine" combo box at the top.
Automate your SEO process. Try our free account!
Sign up now!
We collect the following properties per search term:
The rankings of your competitors in the search results.
Search volume - the estimated amount of queries performed monthly for this search term.
Average CPC - the average cost per click for this search term.
Sorting - all columns are sortable (in ascending or descending order).
Segmentation/grouping - this feature helps to work with large amounts of keywords. You can define tag keywords and then filter your view by those tags.
Email reports - You can export our data in the following formats:
CSV(comma separated values) file, which can then be used by Excel.
PDF file, which can be viewed by Acrobat reader.
Historical Rankings Comparison
Our historical view lets you view your progress over time against your main competitors.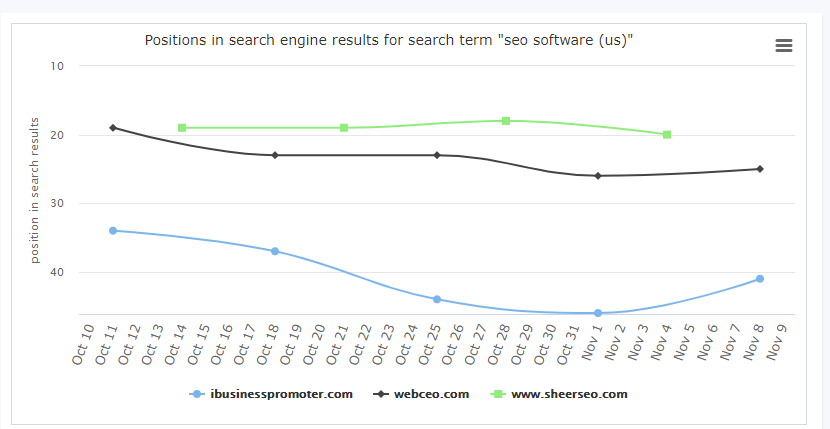 Analyze Backlinks to Competitors
This feature lets you see the main backlinks to your competitors.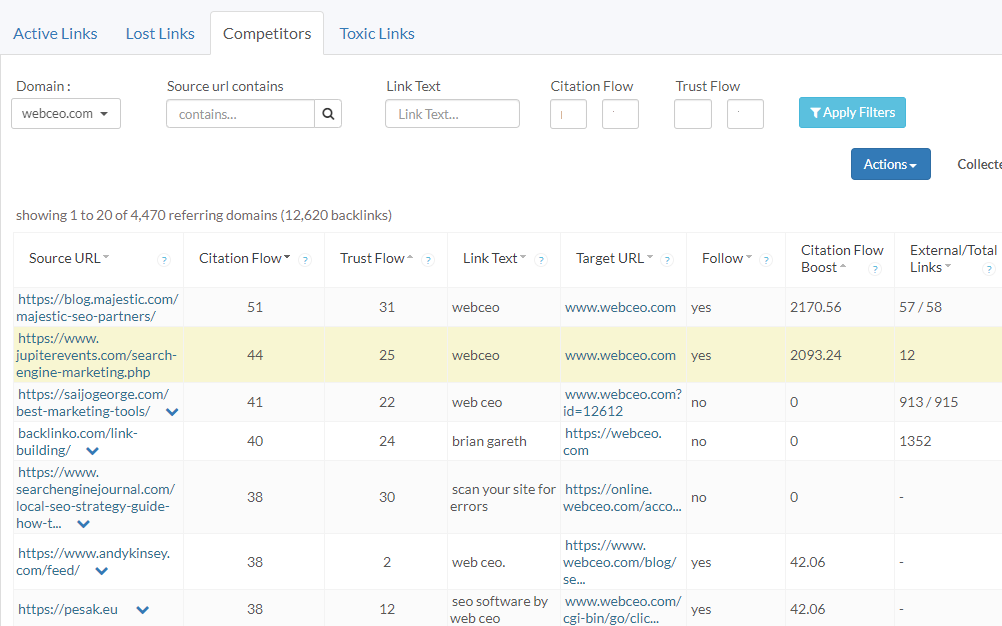 The main links to your competitors might be good opportunities for you.
When seeing the backlinks' details, it is easy to see which of them has the most significant contribution to your competitor's site.
We collect the following properties per each backlink:
Citation Flow - represents the strength of the backlink in Google's eyes.
Trust Flow - describes the trust-worthiness of the backlink.
Link Text - the text on the link. A property that influences how Google classifies your page.
Presence of no-follow attribute - this link attribute tells search engines to ignore the link.
Citation Flow Boost - the actual benefit of the link.
External/total links - the number of links on the page. As there are more links on the page, the less value each link yields.
More Competitors Analysis
The above features concentrate on tracking that is done to a predefined set of competitors. But, we can also let you analyze your competitors in other features we have.
Keywords Gap
With this feature, you can enter up to 3 competitors and see which keywords they rank compared to you.
The information includes search volume and keyword difficulty.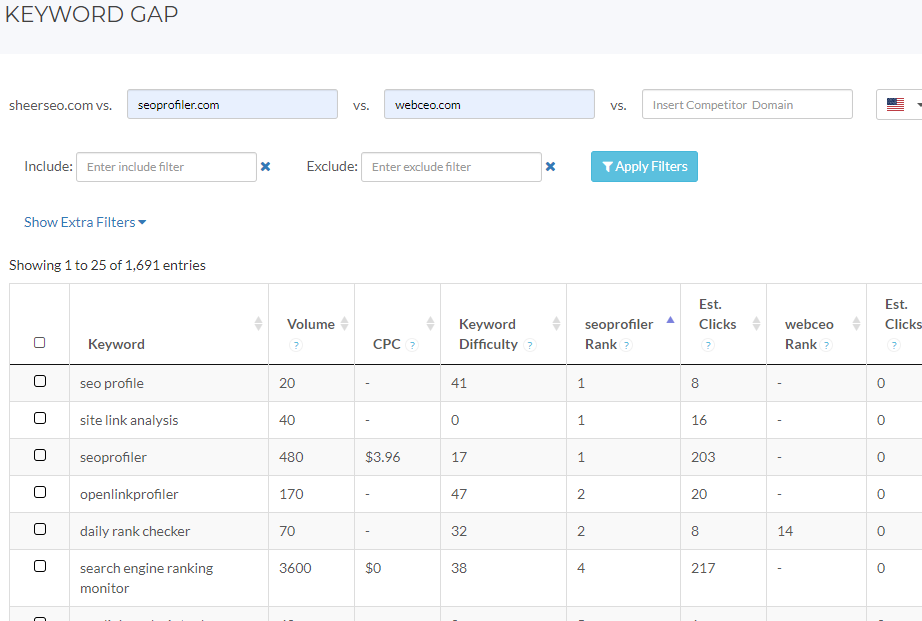 Organic Research
This feature allows you to see your main competitors, as detected by our system based on your ranked keywords.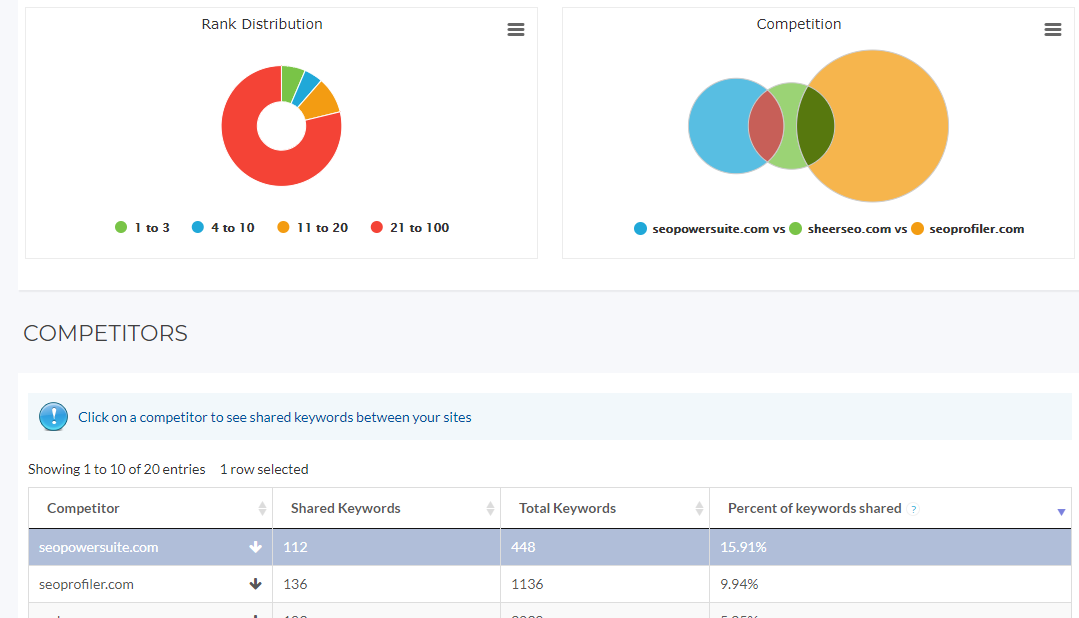 Automate your SEO process. Try our free account!
Sign up now!