Indexed Pages
Current Indexed Pages
One key factor in getting your site appear in as many search results as possible is the number of indexed pages.
This number is determined by the search engines according to the popularity of the site and the amount of crawling that is needed for the site. If pages change frequently than Google will need to crawl them more, which might not leave enough bandwidth to crawl other pages.
One of the ways that can help getting more pages indexed (except high page rank) is to communicate to search engines the pages that need crawling through site-map. This way the search engine will avoid crawling pages that haven't changes since the last crawling.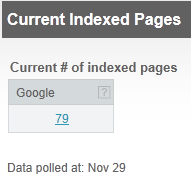 This data is provided in tabular format.
Note that data is available both for Google and Bing.
The results are linked to the search engine's indexed pages.
Historical Indexed Pages
In this view you can monitor your site's progress in terms of number of indexed pages.
The historical number of indexed pages data is displayed in a graphical chart.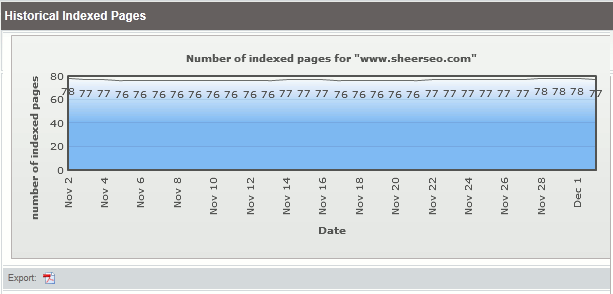 You can select the date range for the historical data.
Note:
This feature will only be useful for registered clients (sign-up is free), since historical data will only be collected for registered clients.
Automate your SEO process. Try our free account!
Sign up now!