Backlinks
SheerSEO gathers a list of your website'€™s main referral links. Those are the inbound links that contribute the most value to your site.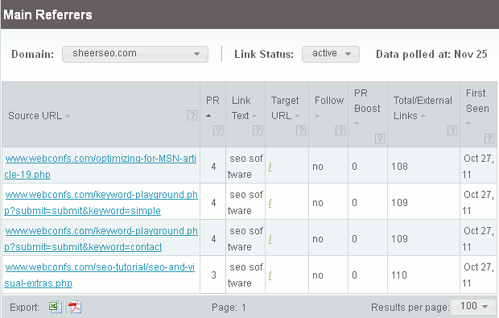 You can see the following properties per referring URL:
The source URL that links to your site. This data is linked to the referring page.
The PageRank of the referring URL.
The text on the link (which is very important for search engines too).
The URL on your site that the link points to.
Shows if this link has a "no-follow" attribute.
Citation Boost - the link value this links gives your site, based on the Citation Flow of the source page and the amount of links that page has.
All columns are sortable (in ascending or descending order). Sorting is done when pressing the header of the column.
Results can be exported to CSV file.
Automate your SEO process. Try our 60 day free trial!
Sign up now!