Supplemental Index Ratio
Current Supplemental Index
In order to be able to cope with the enormous amount of pages, Google stores the indexed pages in two databases. One is the main index, and the other is the supplemental index. Only the main index is used when choosing the results to serve per search query. The supplemental index stores all of those other pages, that seem to have duplicated content or irrelevant content for searches. Of course, you would want as much of your pages to be in the main index and not in the supplemental. To achieve that, you'll need:
valuable content.
Deep links - those are links to your inner pages.
Higher PageRank.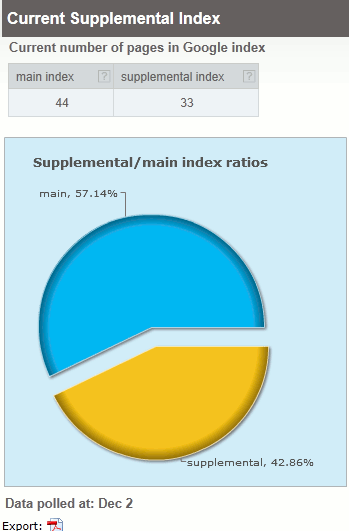 As you can see in the above screen shot, SheerSEO show you how many pages you have in the main index and how many in the supplemental index. We also show the distribution percentage of indexed pages in each of the indexes.
Automate your SEO process. Try our free account!
Sign up now!
Historical Supplemental Index
SheerSEO tracks the amount of pages in the main/supplemental Google indexes over time to enable the correlation of these figures with the SEO activities made.
This data is presented in a graphical chart.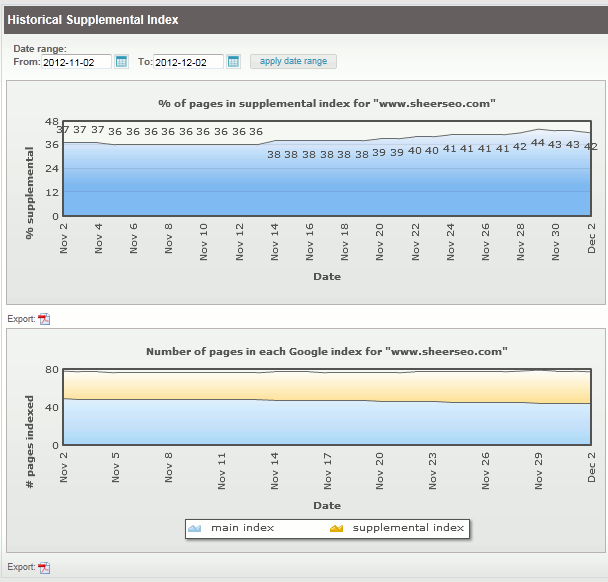 The upper chart shows the percentage of pages in supplemental index from the total of pages indexed by Google.
The lower chart shows the amount of pages in each index over time.
Note:
This feature will only be useful for registered clients (sign-up is free), since historical data will only be collected for registered clients.
Automate your SEO process. Try our free account!
Sign up now!