White label (private label)
With Sheerseo's white label capabilities you can brand it as your own product and show your clients all the data as if it was produced by your company. This is particularly useful for SEO agencies that want to show their clients reports with their own branding instead of sheerseo. You can also sell Sheerseo's licenses at any price you want.
The branding includes:
Brand template - all of the screens will have your top and bottom template so they will look like a natural part of your site.
Company name - all emails and messages will show your company's name instead of Sheerseo.
Email - the emails will show your email in the "from" address.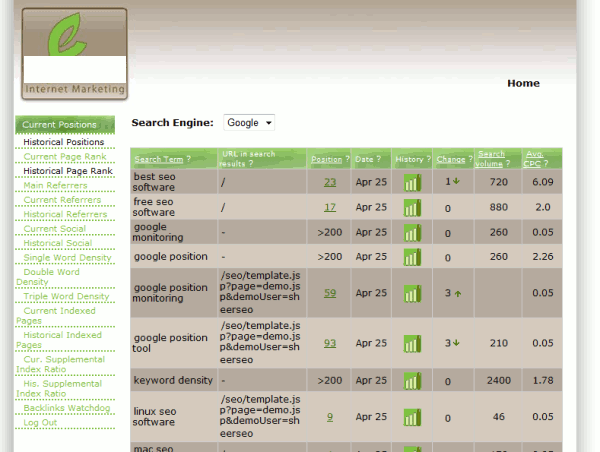 figure 1 - white label example
Special white label features:
Special login per account - each domain has it's own login.
Privileges - you can set the clients to have less permissions so they can't modify the account.
Limited set of screens - you can have a limited set of screens available for your clients. You chose which screens are available for your clients.
Internationalization - You can set the language of presentation. SheerSEO will provide an interface for translations for each text presented by our screens and emails. So, with your cooperation, any language can be supported.
How does it work?
SheerSEO white label is a hosted service, which means we host it on our own servers. This frees you from worrying about server maintenance and installing updates.
All of sheerSEO's features are available in the white label solution. When SheerSEO gets new features, they are automatically part of your features too.
For more details, please contact our sales team
Automate your SEO process. Try our free account!
Sign up now!