The Motivation
Not sure if you are aware of that or not, but recently Google started to hide information regarding the keywords that initiated searches from the sites that the users are going to. Google claims this is for privacy reasons.
Some people think this is and issue with Google Analytics, but it isn't. No matter which tracking software you'll use, the same issue will arises. You can't tell which keywords were used to drive people from your site. You only see a fraction of the data, but not everything.
The only way to solve this is to see this information in Google Webmaster Tools.
This is why we decided to integrate Google Webmaster Tools data into SheerSEO!
The Result
Before we start explaining how to activate this feature, let's start by showing with it does.



As you can see, there are 2 new columns in the rankings screen. "impressions" and "visits".
"Impressions" shows the number of times your site appeared for searches in Google for that keyword in the last 30 days. Note that this is different from the "search volume" column figure, since the "search volume" shows the number of times this search was made, regardless if your site appeared in the results.
"Visits" shows the number of times people clicked your site from the Google results for that keyword.
This feature only exists for users with advanced or professional licenses. If integrated, this feature replaces the data coming from Google Analytics, which is shown in the "real clicks" column. This is because the "visits" is the same information as the "real clicks", just more reliable.
How to Activate
To activate this feature you first need to allow us to "view" this information in Google Webmaster Tools. Then, just finish the activation by pressing a button in our system, so we can try to integrate the data.
First, let's show how to share this data in Google Webmaster Tools. If you don't use Google Webmaster Tools, you can start to by going here: Google Webaster Tools.
Now, once you have an account at Google Webmaster Tools, login to it and go to the home screen. On the right of each Domain there's a "Manage site" button; click on it and select "Add or Remove Users". See here: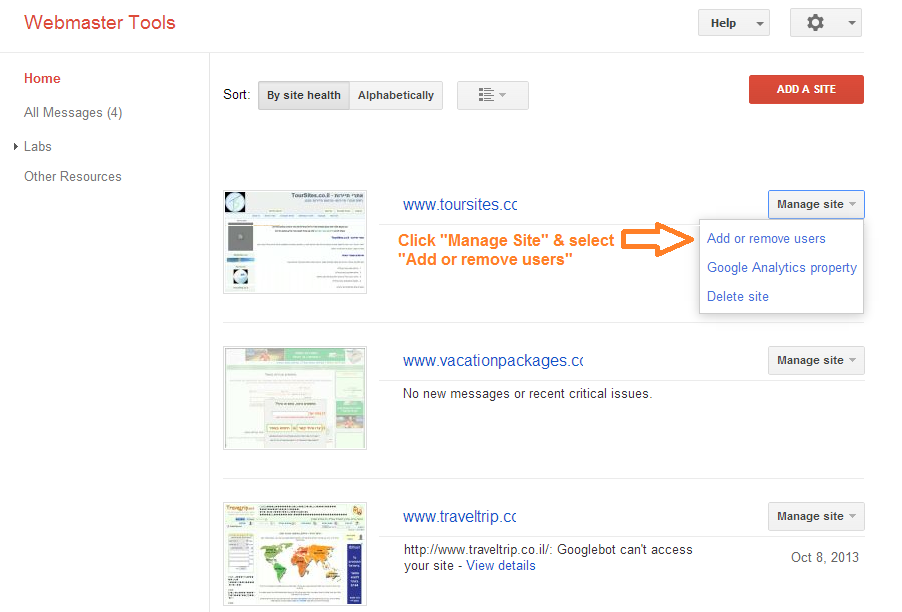 Next you should be in the "Users & Site Owners" screen. Click on the top-right button called "ADD A NEW USER", a new block will opened:



Now, enter our e-mail "sheerseo@gmail.com", keep the permissions "Restricted" and click "Add":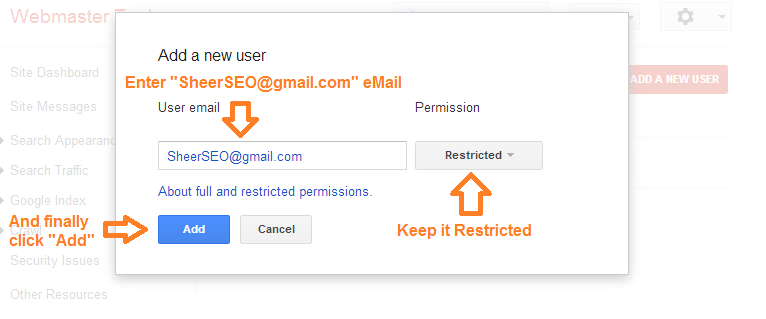 That's it for allowing us to view your data in Webmaster Tools. Now all is left to do is to activate this feature in our settings screen and see if it works.
Login to your SheerSEO account, and go to settings > domains settings > account details screen. At the bottom of the screen you'll find the activation button. Press it and if all goes well, you'll see a message that says the integration worked. Now you can see the new columns, "impressions" and "visits" in the rankings screen as shown above.